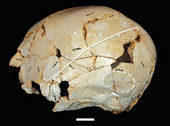 The discovery of the oldest known infant born with a skull deformity hints that, contrary to popular belief, early humans might not have immediately abandoned or killed their abnormal offspring, a new study says.
Many mammals are known to reject newborns with severe deformities. Scientists had therefore assumed that ancient humans behaved likewise.
But a new study shows that a 530,000-year-old fossil skull belonged to a child who lived to around the age of ten despite being born with a rare birth defect known as craniosynostosis, in which the skull segments close too early, interfering with brain development.
Scientists found the remains of several members of the early human species Homo heidelbergensis - thought to be a direct ancestor of the Neanderthals - in Atapuerca, Spain, in 2001.
When pieced back together, one of the juvenile skulls showed evidence that the head would have been misshapen.
Increased pressure on the brain due to the deformity might have led to learning difficulties and health problems such as mental retardation.
"All children need care," noted study team leader Ana Gracia of the Centro UCM-ISCIII de Evolución y Comportamientos Humanos in Madrid.
But this child would likely have required "special need care" to have lived as long as it did, she said.
Deliberately killing unwanted offspring "is not an uncommon practice among mammals, including great apes," our closest genetic relatives, Gracia noted.
Evidence of the practice also exists among modern human cultures. The Inuit, for instance, used to kill babies with severe genetic defects.
And at a medieval poorhouse in England, where parents often left their unwanted children, the cemetery contained a higher than normal number of children with deformities, the study team noted.
But the new discovery shows that the fossil youngster's condition "was not an impediment to [receiving] the same attention as any other Middle Pleistocene Homo child," the study authors write (prehistoric time line).
Findings appear in this week's issue of the
Proceedings of the National Academy of Sciences
.