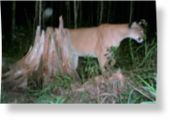 There are definitely a few cougars wandering their way into Minnesota, but most sightings turn out to be false.
Call it a feline frenzy.
Reports of mountain lions in Minnesota keep rolling in.
Just last month several mountain lions, also called cougars, were reported roaming the woods and fields near Elk River. Last fall came the report that a pair of big cats munched a deer shot by hunters in northern Minnesota.
And this winter, via the Internet, came an eye-popping photo of a huge 190-pound cougar reportedly killed in December in southeastern Minnesota.
Department of Natural Resources wildlife researchers say the animals captured on a video taken near Elk River were foxes and a house cat. They said the evidence of cougars feeding on a deer northwest of Duluth last fall also was unsubstantiated.
That dead mountain lion photo showing up in e-mails to Minnesotans? It's real. But the big cat was shot in Washington state in 2002, not Minnesota, Wisconsin, Iowa or a dozen other states as claimed in bogus e-mails.
"Well over 95 percent of the sightings reported to us aren't cougars," said John Erb, DNR wildlife research scientist. Some are hoaxes, but most are just cases of mistaken identity, he said. Over the past 30 or so years, despite 50 or more reports yearly, sightings of only about six wild cougars have been confirmed, he said. Other cougars have been spotted, captured and even killed -- including cats in Willmar in 2006 and Bloomington in 2002 -- but officials believe they were domesticated mountain lions that escaped or were released by their owners.
The most recent confirmed sightings in Minnesota were in 2007, when trail cameras put out by deer hunters captured images near Floodwood in the northeast and Brownsville in the southeast.