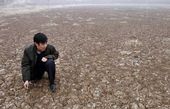 Beijing -- It has not rained in Beijing since October 26, a period of 100 days, making this the longest drought on record since 1971. The meteorological department says the dry weather will continue through early February but in the second half of the month the capital may see 4 or 5 millimeters of snow.
The drought has seriously affected the growth of winter wheat in areas round the capital. In the worst hit areas the fields are cracked and dry and the wheat has withered. The China Meteorological Administration (CMA) says the drought is the worst for many years in terms of duration and the area affected.
Since last December four cold fronts have swept Beijing bringing freezing temperatures and strong winds, but no snow. The long dry spell has been caused by the dominant flow of cold air from the northwest, say experts.
Zong Zhiping, chief weatherman of CMA, said the lack of rainfall was the result of abnormal atmospheric conditions preventing water vapor reaching China from the Bay of Bengal. The weather in almost all regions of China, apart from the northeast, has been dominated by cold, dry air from the northwest.
Dry weather is associated with viral influenza. Hospitals report that a large proportion of recently admitted patients are suffering from respiratory disease.
Experts say when the dry weather turns warm there may be a mass outbreak of influenza, bronchitis and other respiratory diseases. Doctors advise people to drink plenty of water, open the windows and doors to let in fresh air. The elderly should as far as possible avoid crowds and public places and those suffering from flu should take time off work to avoid infecting others.
Staff in Beijing's public parks and gardens say the water shortage has not caused severe problems, but the Beijing Municipal Bureau of Landscape and Forestry and Beijing Park Management Center told the media that the spring plant irrigation will probably be carried out earlier than in previous years.
Plants are given large amounts of water in November each year. During the winter, the land freezes and plants turn dormant, so their growth is not affected by the dry winter weather.
Management at Beihai Park and the Summer Palace said that the soil is still frozen and so long as enough water is provided when the thaw comes plant growth will not be affected. If the temperature continues to rise, they will irrigate the plants ahead of schedule. "Usually we start the spring irrigation in early March. But we might irrigate the plants earlier this year."