As hundreds of thousands are left without power, forecasters fear floods will follow worst weather for a decade
Emergency services struggling with the aftermath of Saturday's storms in France and Spain faced a new spate of victims as four people died and more than 100 were hospitalised after inhaling carbon monoxide from electricity generators.
With 680,000 people still without electricity in France and 50,000 in Spain, families have been using their own generators to power their homes, businesses and farms
But Michèle Alliot-Marie, the French Interior Minister, warned of the dangers today as hospitals dealt with victims poisoned by generators they had installed without proper ventilation.
"People must be more vigilant," she said as officials called for private power generation units to be placed outside.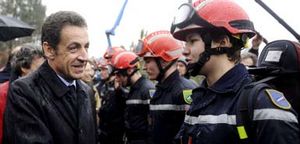 The victims included a couple of pensioners, aged 75 and 77, in the Dordogne. Two other pensioners died along with their dog and cat on their yacht in the Mediterranean after installing a generator aboard.
The warnings came as the death toll from the storms that battered France and Spain this weekend rose to 21 and weather forecasters warned of flooding and further gales .
Mourners gathered in Sant Boi de Llobregat in northeast Spain for the funeral of four children killed when a sports hall collapsed. Rescuers in France said that the latest victim was an elderly woman found in a courtyard.
The 70-year-old died of hypothermia after fleeing from her home near Bordeaux as tiles flew off the roof in winds of up to 119mph.
The children had run into Sant Boi de Llobregat's sports hall to shelter from the winds but were crushed when its roof caved in, Spanish emergency services said.
The fiercest storm since December 1999 killed at least nine people in southwest France and 12 in northeast Spain as winds uprooted trees, damaged buildings and initially left 1.7 million homes without power.
The scenes were described by Guillaume Pépy, the chairman of the SNCF, the French state railway network, as "like a war zone".
Mrs Alliot-Marie said that authorities would formally declare the storms to have been a natural catastrophe, enabling homeowners to claim for the cost of repairing their houses from their insurance companies
With 200,000 homes without landline telephones in France, 650 soldiers were due in the Bordeaux region today to join the 300 already there to help with the rescue operation.
They will be charged with restoring telephone and power lines, clearing roads and railways and surveying rivers in danger of overflowing.
Tens of thousands of people are also without drinking water, according to officials in France.
Mr Pépy said that 1,000 railway employees were repairing tracks and overhead power cables, enabling the main Paris-Bordeaux line to resume service today.
EDF, the French state electricity operator, said that 3,000 workers, including a team sent from Britain, were repairing power lines. A spokesman said that 90 per cent of its customers would have power back within a week.
In Spain firefighters were struggling to contain two forest blazes caused by electricity pylons toppled by the gales. Spanish weather forecasters said that further storms were likely today, adding to the turmoil that has gripped northeast regions.
Méteo France, the French weather office, said that floods were likely in the aftermath of the storms.
The winds also battered Italy, where a woman drowned after being swept into the sea by a wave as she walked along a beach near Naples on Sunday. Two people were killed in a mudslide, also near the southern city.