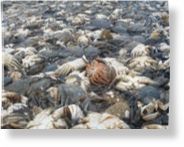 Mysterious circumstances surround the beaching of thousands upon thousands of crabs on the isles beaches.
Last week the bodies of velvet swimming crabs were washed up on shores all around the Thanet coast but no definitive reason can be found.
Some think the sudden death of the velvet swimming crabs could be due to the cold weather.
Tony Child of the Thanet Coast project said: "It does seem to be linked to the weather, as it's been particularly cold.
It is something which happened three or four years ago. It's very strange."
However, he added that some crabs have been taken away to test for disease and "it was odd that no other species had been affected" by the cold.
Crab numbers had just started to recover from the last wave of deaths.
Mr Child said: "Last time it had a big effect on the population. During our seashore safari outings last summer we had just noticed that numbers were climbing again, after not recording many for two or three years, but unfortunately we've been hit again which is sad really."
The deaths seem to have been more prevalent in Westbrook and Botany Bay.
The occurrence was warmly welcomed by one set of island dwellers, however.
The seagull and bird population had a field day, gobbling up the washed up creatures with glee.
Mr Child said: "When I went to Margate all I saw was crab legs and shells scattered everywhere with webbed feet patterns in the sand. It was clear they had been having a feast of a time. Their Christmas had come late this year!"
The Environment Agency are investigating and are due to release their findings next week.