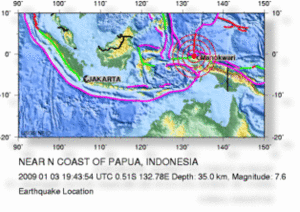 JAKARTA - Authorities and witnesses say a strong earthquake in eastern Indonesia has sent panicked residents running outside.
The country's meteorology and seismology agency warned that with a preliminary magnitude of 7.2 it was strong enough to cause a tsunami. There were no immediate reports of giant waves.
It struck at 2:43 p.m. EST, around 85 miles off of Manokwari, Irian Jaya, at a depth of about 6 miles.
Hasim Rumatiga, a local health official, said electricity went off and residents ran to higher ground.
Indonesia straddles a chain of faultlines and volcanoes known as the Pacific "Ring of Fire" and is prone to seismic activity.
A huge quake off western Indonesia caused the 2005 Asian tsunami that killed around 230,000 people.