One of the detained members of an alleged Israeli-linked espionage network was involved with Iran's elite Revolutionary Guard, the official state news agency said Tuesday.
IRNA quoted Teheran General Prosecutor Saeed Mortazavi as saying the network formed after Israel's Mossad spy agency recruited a man who had "previously been in connection with the Guards."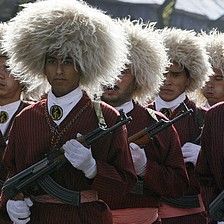 He said the three members of the network were trained by Israeli intelligence agents, but were detained before they could relay any information to Israel.
Mortazavi added that the spies, who planned to bomb military sites and assassinate military experts, now face capital punishment.
"Since Israel is the enemy of the Iranian people, the prosecutor's office will ask for their execution," he said, adding that their trial would start after the Guards finish its investigation.
Iran's state TV also showed video footage of devices such as GPS equipment, satellite telephone, laser distance-meter and oscilloscope and described as belonging to the network.
Iran said it uncovered the network on Monday.
Earlier this month, Iran executed an Iranian electronics salesman convicted of relaying information on the country's nuclear program to Mossad.