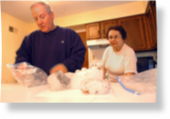 Mary Ann Foster suddenly awoke about 5:30 a.m. Wednesday with a bump on her head and insulation hanging down from the ceiling just above her bed.
The 66-year-old crawled out of bed and went downstairs to tell her husband, Perry, that something weird was going on. Something had crashed through the roof of their York Township home.
Her husband noticed the bump on his wife's head, and she lay down with an ice pack while he went upstairs to check things out.
What Perry Foster found in the bedroom was six pounds of ice broken into chunks and a hole 12 inches in diameter between two joists in the ceiling. He could even see the sky.
"I saw the ice on the floor, and I saw ice on the bed," the 68-year-old husband said. "There were chunks of ice on the bed, which she didn't even see."
Perry Foster immediately called police, who were skeptical at first about his story. But a York Area Regional Police officer came out and found two big pieces of ice under a damaged ceiling tile that Perry Foster had missed.
Ambulance personnel also came to the house and checked Mary Ann Foster's head. She later went to see her doctor, who said it looked OK but to be cautious.
Perry Foster placed the ice chunks into Ziplock bags and put them into the freezer. The couple pulled them out throughout the day for the news media to see.
The clear pieces of ice had splinters of wood and pink shreds of insulation stuck to them.
"It looks almost like quartz," Perry Foster said.
Police suggested that the ice might have come from an airplane and that the Fosters could call the Federal Aviation Administration to see if one flew over their house at that time in the morning. Perry Foster said they planned to do so.
But they also wondered if it might have been a meteorite.
Mary Foster said her son-in-law found on the NASA Web site that a meteor shower had been predicted for Wednesday morning.
"If it was that, it would be kind of cool, I suppose," Mary Ann Foster said.
While it's impossible to say for sure without a scientist examining the ice chunk, it is possible that a meteor came crashing through the home's roof, said Dave Dombek, senior meteorologist at AccuWeather.com.
"It is not out of the realm of possibility," Dombek said.
This time of year is the peak season for the Draconids meteor shower, Dombek said. A meteor shower is created when the stream of icy debris following a comet enters the Earth's atmosphere as our planet rotates around the sun.
The Fosters plan to keep the chunks in their freezer in hopes of getting a science professor from a college or university to take a look at it and try to figure out where the ice might have come from.
"I don't think we have to keep it all, but we could keep maybe some of it as a souvenir," Mary Ann Foster said.
Staff writers Mike Hoover and Nichole Dobo contributed to this report.