A strong earthquake jolted northern Japan early on Thursday, injuring at least 76 people, trapping hundreds in halted trains and temporarily cutting off electric power to thousands of homes.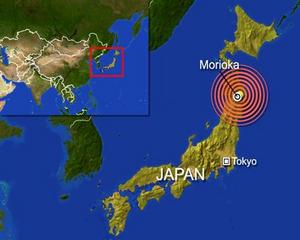 ©REUTERS/Graphics
The Japan Meteorological Agency (JMA) said there was no threat of a tsunami from the quake, which struck at 00:26 a.m. Thursday (11:26 a.m. EDT Wednesday) and had a preliminary magnitude of 6.8 and could be felt as far away as Tokyo.
A National Police Agency official said that 76 people were confirmed injured, including nine seriously. Many were hurt in falls or suffered cuts from broken glass.
Public broadcaster NHK put the injured toll at 103.
The focus of the quake was 108 km (67 miles) below the surface of the earth in Iwate prefecture, a mountainous, sparsely populated region.
The JMA initially put the focus at a depth of 120 km.
"I woke up immediately. It felt like it was shaking for a long time. Books and other things that were piled up fell on the floor. All the doors were open and things were shattered," Sho Koseki, a city official in Hachinohe, about 550 km northeast of Tokyo, told Reuters by telephone.
Koseki said that troops had arrived in the area to assist, and the Defence Agency said that military planes were flying over the area to assess the extent of the damage.
Earthquakes are common in Japan, one of the world's most seismically active areas. The country accounts for about 20 percent of the world's earthquakes of magnitude 6 or greater.
Thursday's quake follows a string of earthquakes in the same region, the first of which in mid-June killed at least 10 people and left as many again missing.
Chief Cabinet Secretary Nobutaka Machimura told reporters that some 6,000 homes had lost electric power, but a Tohoku Electric official later said service had been restored to all but 335 homes. Nearly 160 households in Iwate prefecture were without water, a local official said.
"Once it's light, we'll have a better grasp of the situation and helicopters will be able see things like landslides," Machimura said after the government set up an emergency task force at the prime minister's official residence.
STUCK IN TRAINS
The meteorological agency warned of landslides in some areas, where strong rain was expected later in the day.
More than 700 people were stuck on five overnight trains that halted at or between stations due to the quake, said a spokesman for East Japan Railway Co.
Two trains later resumed service, but 540 people were still on board the others, which had yet to move more than five hours after the quake hit. Service was also suspended on some high-speed bullet train lines until later in the day.
Some parts of expressways were closed to traffic in the region, a mountainous and sparsely populated part of Japan, but they were later reopened, NHK reported. Some smaller roads remained blocked by landslides.
TV footage showed offices with papers strewn around on the floor and some with parts of ceilings fallen down.
Fallen roof tiles and broken glass were scattered outside of some buildings, while large boulders blocked smaller roads.
"People in the store were trying to protect dishes from breaking," a young woman in the northern city of Sendai told NHK.
"I thought the big one had finally come."
Tohoku Electric said its nuclear facilities in the area were operating normally after the quake, except for one unit that was already off-line for maintenance work.
Tokyo Electric said its nuclear plants further south had not been affected.
Nippon Oil said its 145,000 barrels per day Sendai refinery was operating normally after quake.
But Tohoku Electric said it had manually shut down a 250-megawatt oil-fired power plant in Aomori and Nippon Steel halted steel output and shut down a 149-megawatt coal-fired power plant at its Kamaishi works for inspection.
In October 2004, an earthquake with a magnitude of 6.8 struck the Niigata region in northern Japan, killing 65 people and injuring more than 3,000.
That was the deadliest quake since a magnitude 7.3 tremor hit the city of Kobe in 1995, killing more than 6,400.