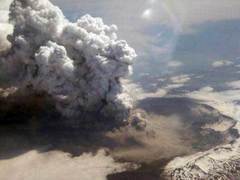 ©Anchorage Daily News
Okmok Volcano, seen erupting July 13, 2008, spat water, gas and debris nearly 5 miles into the air July 19.
The Aleutian Islands' Okmok Volcano stepped up its rumbling and puffing Saturday, spitting massive geysers of water, gas and debris 25,000 feet into the air, according to Jennifer Aldeman, a geologist at the Alaska Volcano Observatory.
The AVO issued a red alert Saturday morning, warning pilots in the area to be wary.
The escalated rumbling may signal that even more powerful bursts are coming from the volcano, reaching higher altitudes, she said.
Any ash fallout from the eruption Saturday appeared headed out over open ocean, she said.
Okmok began erupting July 12, prompting flight cancellations and sprinkling ash on the community of Dutch Harbor nearly 70 miles away.
In that eruption, the volcano burped a sulfur dioxide gas cloud that traveled across the United States and now hangs somewhere over Greenland, Aldeman said.
"There have, I believe, been pilot reports where they've smelled sulfur," Alderman said.
The 3,500-foot volcano last erupted in 1997. According to the AVO, Alaska contains more than 130 volcanoes and volcanic fields. More than 50 have been active since about 1760.
Alaska's volcanoes make up well over three-quarters of U.S. volcanoes that have erupted in the last 200 years.