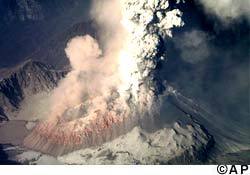 ©Associated Press
Hawaii's Kilauea volcano is throwing up more lava than usual.
Aerial pictures show lava spewing up in the air from what may be the world's most active volcano.
However, health officials are now concerned that the volcanic gas may trouble people having respiratory conditions.
Surface flows emerge near the ocean on the southeast side of the big island, where people can see the lava from a viewing area a few hundred feet away.
A white plume rising from the Halemaumau vent near Kilauea's summit is carrying small amounts of ash and elevated levels of sulfur dioxide.
The volcanic gas, known as vog, is being blown to the southwest.
According to the US Geological Survey, Kilauea has been erupting virtually continuously since 1983.