It was the early 1990s and Tzipi Livni, a daughter of famed Zionist guerrillas who was scrambling for a foothold in the Israeli parliament, came up with a muscular campaign slogan: "My Name is an Institution".
The Hebrew for "institution" is "Mossad". It's also the name of Israel's feared intelligence agency, where Livni briefly worked before entering politics and becoming foreign minister and heir-apparent to Prime Minister Ehud Olmert.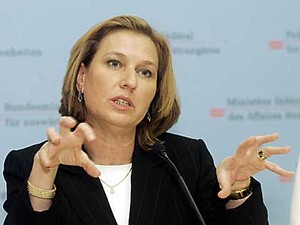 ©Unknown
Such puns are a thing of the past for Livni. Now 49 and the most prominent Israeli stateswoman since Golda Meir, she appears set on staving off scrutiny into her stint in a spy service mainly noted for assassinating enemies of the Jewish state.
Media exposes have been long on cliche. One Canadian report described Livni as a skilled Mossad gun-slinger, "naturally blonde with eyes as blue as the Mediterranean". A British newspaper had her "taking out Arab terrorists" for Mossad in Europe.
The Foreign Ministry refused to respond, citing official secrecy around Mossad operations. But aides to Livni made clear their exasperation with such publicity, which comes as she tries to prod along U.S.-sponsored peace talks with the Palestinians.
"It's total rubbish and really the sort of thing we would rather not see in print," said one.
Still, some commentators suggest Livni should consider lifting the veil on her espionage role, if only to make up for her lack of military pedigree -- a major impediment for an aspiring female leader in a country born of war.
Testifying last year before a commission of inquiry into Israel's costly 2006 offensive against Lebanese Hezbollah guerrillas, Livni recalled feeling left out by Olmert as he planned strategy with an all-male general staff.
Mystique
"Being in Mossad has a mystique which could really help Livni's prospects. She comes off, otherwise, as pretty dour," said Amotz Asa-El, an Israeli political analyst.
"But I wouldn't be at all surprised if Mossad is stopping her from going public. They're zealous about secrecy," he added, recalling that ex-Prime Minister Yitzhak Shamir, a former Mossad officer, was tight-lipped about his time as a spy.
There may be diplomatic considerations for Livni too.
Fluent in French, she has acknowledged working as a Mossad agent between 1980 and 1984 in Paris, scene of Israeli missions targeting Palestinian guerrillas and Iraq's efforts to advance its nuclear programme.
In June 1980, an Egyptian atomic scientist working for Saddam Hussein was found murdered in his Paris hotel room -- a victim, it was assumed, of Mossad. Israel declined comment, but then Prime Minister Menachem Begin told an American interviewer he hoped France had "learned (its) lesson" for helping Iraq.
Yet two veteran Mossad field operatives who served in the agency at around the same time as Livni played down speculation that she was part of a hit-team. One said that she spent at least part of the time in France maintaining a Paris safe house.
Assassination units, the ex-operatives told Reuters, draw on older recruits with extensive combat experience and, for discretion's sake, try to avoid contact with other Mossad staff.
"At most, Tzipi would have received a request to go off to Bourgogne for a couple of days while the 'guys from Israel' used the apartment," one veteran said. "It was a minor role that I doubt would yield a lot of dramatic mileage today."