JAKARTA - Residents in the Indonesian capital, Jakarta, braced for further flooding after a high tide of over 2 meters resulted in flooding in parts of the city on Wednesday.
Authorities in the capital, home to more than 10 million people, had prepared for the unusually high tides with sand bags and wire netting filled with stones following a warning by the World Bank.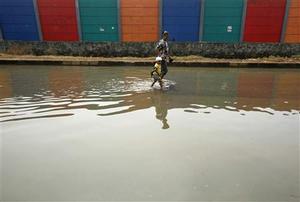 ©REUTERS/Beawiharta
A woman with her son wade through a flooded street in Jakarta June 4, 2007.
Tide waters swamped areas near the coast for a few hours overnight, leaving hundreds of people stranded in their homes. But the main highway leading to the airport, which has suffered from flooding on previous occasions, was not affected.
The water has receded, but officials say they expect the waters to rise again tonight.
The flooding was the result of a high tide cycle that occurs once every 18 years or so, when the sun and moon are in direct alignment and are closest to the earth.
A Jakarta Public Works Agency official said they expect a 2.06-metre to 2.09-metre water rise later on Wednesday adding that the high tide is expected to last until June 7.
"We have prepared emergency kitchens and tents since June 2, but people still want to stay in their homes," Maman Suparman, the section head of water management at the Jakarta Public Works Agency, told Reuters.
Residents in Muara Baru village hitched up their trousers and carried their slippers and shoes as they waded through the flood waters, while trucks and cars drove through the flooded streets easily.
"The flood waters entered my house last night. In the house it reached my calf, and outside it is even worse, up to an adult's thigh," Nursanti, 28, who lives in Muara Baru area near the coast in northern Jakarta, told Reuters.
Children played in the streets while others took rides on trucks as they waited for the waters to subside.
"This flood is rising fast because of the high tide and wind coming in from the sea," said Daidi, a resident at Muara Baru.
Jakarta is often flooded in the rainy season and can also be inundated by high tides in areas near the coast and in low-lying districts.
Flooding caused by heavy rains also frequently cuts off a stretch of the airport highway, leading to massive traffic jams and flight delays.
Jakarta's city public works agency is raising the height of seven embankments to help reduce the flooding, while toll road company PT Jasa Marga is building barriers to prevent further flooding.
"We are still using emergency (embankments), using river rocks and sand bags, because the permanent embankments will only be finished in July or August," Budi Widiantoro, the deputy head of the Jakarta Public Works Agency, told Reuters.
Some experts say flooding in Jakarta, which killed 50 people during the wet season in 2007 and triggered more chaos in February this year, is caused by reclamation of swamp areas.
Environmentalists say Jakarta is sinking because of excessive mining of ground water and the added threat from rising sea levels because of climate change.