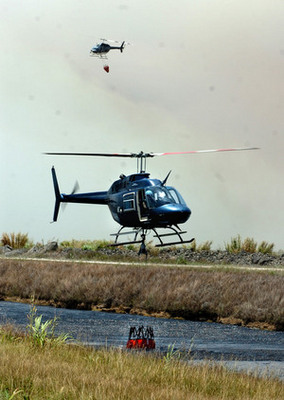 ©TIM CHAPMAN / MIAMI HERALD STAFF
Two National Park Service helicopters pick up water from a south Miami-Dade canal to be used in containing a fire on the eastern edge of Everglades National Park to the west of SW 232 Street.
The Everglades wildfire burning in Southwest Miami-Dade continued to spread Sunday, scorching thousands more acres. And there was more bad news: the winds are not helping.
Steady south-westerly winds are blowing thick, smoky haze and the smell of fire over Miami-Dade and Broward counties.
'Unfortunately, the winds will continue sending the smoke over the metropolitan area,'' said Bob Ebaugh, a weather service specialist said Sunday. That could continue through Wednesday - if the fires don't let up. ''There could be some respites when afternoon sea breezes move in.''
To add to the discomfort, the temperature could break records Sunday, climbing to 95 degrees by the afternoon. At 12:30 p.m., it was 90 degrees, the National Weather Service said.
''These winds tend to bring warm temperatures, and we're flirting with record high temperatures,'' said John Pendergrast, a meteorologist with the federal team.
Officials warned the heavy smoke could pose health hazards, and were keeping a watchful eye on the blaze as it continued to grow -- although the wildfire did not pose any immediate threat to residential property, according to state fire officials.
''If it were to move into populated areas, we'll work with the county sheriff, but we don't see that happening right now,'' said Carolyn Norvell, spokesperson for a multi-agency federal team that is coordinating the fire suppression efforts.
The Everglades fire has been burning since Wednesday and had spread to 32,820 acres by Sunday morning, according to national park officials.
Officials continued to urge people to stay indoors to avoid the potential effects of the smoke, especially those with respiratory ailments.
On Sunday, the fire was still south of the park's Chekika visitor area, near Southwest 168th Street and 237th Avenue. Park officials closed the avenue and a portion of the street Thursday evening, as teams were using those streets.
The smoky conditions could worsen, thanks to shifting winds -- which will also bring potentially record-breaking heat.
Those south-westerly winds are also bringing another problem: heavy smoke and ash that could be dangerous for people with asthma or other respiratory ailments.
''Folks that are sensitive to particulates and heavy smoke might want to limit their outdoor activities. It could be a hazard,'' Pendergrast said.
At nighttime, the combination of fog and smoke could cause visibility hazards in the Kendall, Hammocks and Redland areas.
The high temperatures, coupled with low humidity, will make for even drier conditions -- and more fuel for the wildfire.
Everglades National Park staff have been joined by various fire suppression crews from around the county and state to help combat the blaze.
Crews slowed down the northeastern corner of the wildfire using a ''burn-out'' Friday night, when they created a controlled fire near the edge of the wildfire.
''They removed some of that burnable fuel,'' Norvell said. ''Fires need fuel, oxygen and heat. If you remove one of those, they go out.''
Norvell said there is a possibility the fire could burn for several weeks, although she called that a ''worst-case scenario.''
''It's a different situation this year. You're supposed to start getting rains in the afternoon by now, and that hasn't been happening,'' she said.
Congressman Mario Diaz-Balart was scheduled to fly over the fire Saturday to survey the damage. That flight, however, may be one of the few to fly over the area until the wildfire is stopped. A temporary flight restriction asking all aircraft to remain above 3,000 feet when near the fire went into effect Saturday afternoon, while the federal team set up an incident command post at a Florida City Holiday Inn.
Property damage is not the only concern. Park officials are also monitoring the status of several animals on the endangered species list that are at risk. Among them: the Cape Sable Seaside Sparrow, a low-flying bird found only in the Everglades.
''While a controlled fire through [the park] could do it a lot of good, a wildfire could be devastating'' to the wildlife in the area, Norvell said.