PUERTO MONTT/FUTALEUFU - Chile on Thursday ordered holdout residents to flee from an erupting volcano in the remote region of Patagonia and vowed to force them out if they refuse to obey.
The military evacuated a small contingent of troops and journalists from near Chaiten volcano in southern Chile before dawn on Thursday after it spat out fiery material.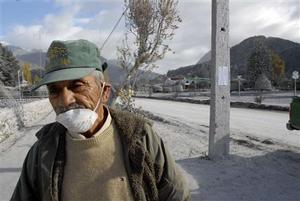 ©REUTERS/Jorge Cortizo
Jose Marciano, wearing a face mask to protect himself from volcanic ash, walks in Futaleufu, near the Chaiten volcano, located some 1,450 km (900 miles) south of Santiago, May 8, 2008.
But some civilians refused to leave two villages near the volcano that began erupting last week for the first time in thousands of years. It has spewed ash that has reached the Atlantic seaboard and the Argentine capital, Buenos Aires.
A strong smell of sulfur hung in the air around the village of Chaiten, just six miles from the volcano.
A court has ordered the complete evacuation of a 30-mile (50-km) radius of the volcano, a move that gives police permission to use force.
"There are still people who are not respecting the decisions of the authorities, which are trying to protect their lives," Defense Minister Jose Goni told local radio.
A handful of civilians stayed back in Chaiten and 24 remained in Santa Barbara, some 12 miles from the volcano and well within the evacuation zone, a Reuters reporter who left with the troops said.
Thousands of people have been evacuated, most by boat or navy warship. From the north, Chaiten is only accessible by boat or air.
"I can't assure you that by the end of the day there will be no one left ... but we are doing all we can to ensure absolutely no one stays in Chaiten," said Gen. Jose Bernales, Chile's police chief.
"We have a court order. I want to ask anyone still in their houses to leave and go to the pier. We will take you to a safe place," he said. "Either people leave Chaiten, or we will take them anyway."
DETERMINED TO STAY
The government has also called for the evacuation of the ash-caked town of Futaleufu, 100 miles southeast of the volcano. But people there are not being required to leave.
Some residents said they were determined to stay, a few shoveling ash off their roofs.
"I'm not going because I'm afraid to leave things behind, I have to look after the animals," said 74-year-old farm worker Jose Marciano.
But many of the town's residents have already crossed the nearby border into neighboring Argentina.
Cows left behind in Chaiten nibbled at foliage caked with ash. It had settled on their backs, and on the ground it was compacted in some areas and appeared hard, like cement.
The long-dormant 3,280-foot (1,000-metre) volcano lies 760 miles south of the capital Santiago.
It began erupting on Friday and sent a plume of ash some 7-1/2 miles into the air that is clearly visible on satellite images of South America's southern tip.
Experts say the volcano could continue belching out ash for months and rumble on for years.
Chile has the world's second most-active string of volcanoes behind Indonesia. It is home to 2,000 volcanoes, 500 of which experts say are potentially active. Around 60 have erupted over the past 450 years.