PUERTO MONTT - Chile evacuated the last military personnel from the vicinity of an erupting volcano in its remote Patagonian region before dawn on Thursday, after it spat a surge of fiery material.
But a few civilians refused to leave two villages near the Chaiten volcano in southern Chile which began erupting last week for the first time in thousands of years, a Reuters witness said.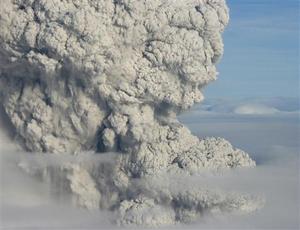 ©REUTERS/Antonio de la Jara
Smoke and ash rise for thousands of meters through a thick layer of clouds from the crater of the Chaiten volcano in southern Chile, May 7, 2008.
The military and a few journalists drove around 50 miles south of the volcano to the village of Santa Lucia after earth tremors and an electric storm at its peak around midnight, a top regional government official said.
A strong smell of sulfur hung in the air around the village of Chaiten, just 6 miles from the volcano in southern Chile.
"Army personnel have seen pyroclastic material, burning material," Miguel Munoz of the government's National Emergency Office told Reuters. "So the (remaining) civilian and army personnel have been moved."
However four civilians stayed back in Chaiten and 24 stayed in the village of Santa Barbara 12 miles from the volcano, well within a 30 mile evacuation radius, the Reuters witness said.
Thousands of people have been evacuated from the area, most by boat or navy warship. From the north, remote Chaiten, flanked by fjord, forest and river is only accessible by boat or by air.
"What happened last night could be repeated as long as the eruption cycle continues," said Rodrigo Rojas, a senior official at the National Emergency Office. "We haven't absolutely ruled it out."
Chaiten volcano lies 760 miles south of the capital Santiago and has showered ash on towns as far away as in neighboring Argentina.
Cows in Chaiten nibbled at foliage caked with ash. Ash had settled on their own backs, while on the ground it was compacted in some areas and appeared hard, like cement.
The long dormant 3,280-foot (1,000-metre) Chaiten volcano began erupting on Friday and the huge plume of volcanic ash is clearly visible on satellite images cutting a swathe across South America's southern tip.
Experts say the volcano could continue belching out vast clouds of ash for months and could rumble on for years.
Chile has the world's second most active string of volcanoes behind Indonesia. It is home to 2,000 volcanoes, 500 of which experts say are potentially active. Around 60 have erupted over the past 450 years.