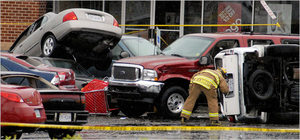 ©Mandana Marsh/Progress-Index, Associated Press
A firefighter checks inside cars in Colonial Heights, Va.
Houses were flattened and cars were thrown against buildings when tornadoes ripped across central and southeast Virginia on Monday, injuring more than 200.
In Suffolk, where the worst damage occurred, warning sirens blared around 4 p.m., and within minutes, the tornado hit, splintering large buildings and bending light poles at their bases.
As the tornado continued northeast, the devastation became so widespread that Gov. Tim Kaine declared a state of emergency at 6:55 p.m. In Petersburg, it struck a large shopping mall, demolishing stores and tossing cars into the air.
Hospitals reported that most injuries were not life-threatening. Terry Tysinger, spokeswoman for Southside Regional Medical Center in Petersburg, said most people had been treated for lacerations, while others were examined for possible fractures.
Sentara Obici Hospital in Suffolk treated and released 73 people, said Dale Gauding, a hospital spokesman. Many others were treated at the sites where the tornado had touched down, said Bob Spieldenner, director of public affairs for the Virginia Department of Emergency Management.
Tornadoes also touched down in Colonial Heights and in Brunswick County.