Athens, Greece - Authorities say an earthquake has struck the southern island of Crete, but no damage or injuries have been reported.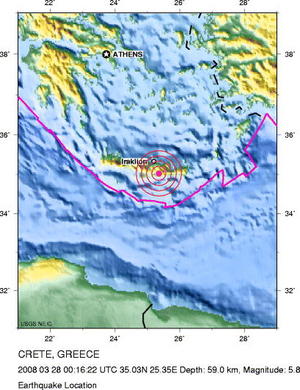 ©USGS
The Athens Geodynamic Institute says the quake had a preliminary magnitude of 5.7 and an epicenter in the sea south of Crete, about 250 miles south-southeast of Athens.
The institute said the quake struck at about 8:15 p.m. EDT on Thursday.
The U.S. Geologocial Survey gave the preliminary magnitude as 5.8. Magnitudes of earthquakes measured by different institutes often differ.