These are absolutely incredible rainfall totals. The rainfall total of nearly 4 inches at Springfield-Branson National Airport is a record daily amount for the month of March.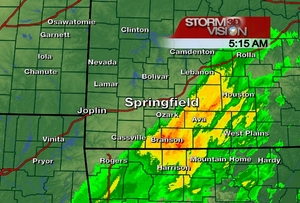 ©KSPR Weather
Good morning. Some of us, for the first time in nearly 36 hours are finally not seeing any rain this morning. Radar shows the eastern Ozarks stil experience heavy rain.
Runoff will still occur across the area and creeks, streams, and major rivers will continue to be out of their banks for the next few days. There is really one rule to remember over the next few days.
DO NOT DRIVE THROUGH FLOODED ROADWAYS IF THE WATER IS FAST MOVING AND/OR YOU CANNOT SEE THE ROADWAY
We have had widespread reports of 4-10 inches of rain across the Ozarks. To our east they are fairing much worse. Cape Girardeau has recorded nearly 15 inches of rain with this storm.
These are absolutely incredible rainfall totals. The rainfall total of nearly 4 inches at Springfield-Branson National Airport is a record daily amount for the month of March. For those who may be wondering, the most rain we've received in a day is 6.27" back in 1987. The wettest March on record was back in 1935 when Springfield received 9.09" of rain. Currently we sit at 7.87 and this has the potential for being the wettest March on record as well.
Record or near-record crests are expected this morning on numerous rivers including the James River, the Jacks Fork River, and the Current River, The State Emergency Management Agency has compared the river levels with this round flooding with those of the Flood of 1993.
UPDATE:
A Historic Flood
By Chief Meteorologist Kevin Lighty
Mar 20, 2008
Reports that I-44 east of Lebanon where the Gasconade crossed I-44 is over the bridge and traffic is backed up as the interstate has been shut down in both directions.
A historical flood has impacted parts of the Ozarks. This flood has broken many records and we are still seeing the effects of it today.
First of all as mentioned before February was the wettest on record.
Some of the latest reports is showing complete devestation in some areas. Take a look at this report.
0227 PM FLASH FLOOD GALENA 36.81N 93.47W
03/19/2008 STONE MO EMERGENCY MNGR

30 HOMES WERE SWEPT AWAY FROM RECORD FLOODING OF THE JAMES RIVER. THE HARDEST HIT AREAS WERE GALENA...HOOTEN TOWN...AND BAKERS HOLE. THE JAMES RIVER JUST CRESTED AT A RECORD LEVEL. THE EMERGENCY MANAGER SAID THAT SEVERAL OF THESE HOMES ARE FLOATING DOWN THE RIVER TOWARD TABLE ROCK LAKE.
Truly unbelievable to see 30 homes floating down the James River. Thoughts and prayers are with those who are dealing with this tragic situation.
The James River at Springfield also came very close to taking the top spot, but this time it is the 2nd highest crest of all time.
The shoal creek at Joplin did break its all time record.
The Gasconade at Hazelgreen is nearing its all time record as it continues to rise.
These are just SOME of the rivers that have broken records. Many more smaller streams are also at record levels. This will be one of the worst floods of all time for some locations. Good news is most rivers are just now starting to slowly recede. We should have a break from rain for a few days.
This widespread flooding event has taken lives, ripped apart peoples homes, and left many in near death experiences when driving into flooded roads. Remember you can't drive through flooded roads! You just can't! Thanks to everyone for their rainfall amounts. It is truly appreciated, and for those of you who don't have a rain gauge, maybe think about purchasing one. They are fairly inexpensive and would be a nice addition to your weather reporting here on the blog for us!