A tanker with 13 crew on board is in difficulty off the Isle of Wight as storms batter southern England.
The Swedish registered Astral began dragging anchor about one mile (1.6km) to the east of the island and was at risk of coming ashore.
Several tugs have managed to secure the 11,000 tonne ship and it is under tow to Southampton.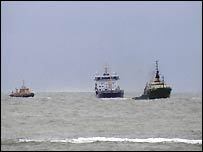 ©Unknown
A Solent Coastguard spokesman said: "The crew are working as hard as they can to contain the situation."
Bembridge Lifeboat was launched to standby throughout the operation.
The Coastguard spokesman said there were no plans to airlift the crew off the vessel.
"The main thing is to stop her coming ashore," he said.
"All being well, they'll be under way in a minute."
Earlier John Keyworth, from Bembridge Lifeboat station, said: "This tanker's about three quarters of a mile offshore at Bembridge here.
"She's run aground initially, being battered by the high waves, and we're just standing by out there with the lifeboat at the moment.
"Initially they had a problem onboard, which obviously caused them to run aground, and the weather's now not helping things, it's pretty horrendous down here."