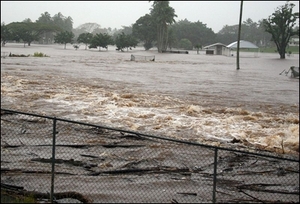 ©Hawaii news photo
Hilo's Bayfront Park was under 3 feet of water after a storm pounded parts of the Big Island yesterday with more than 20 inches of rain.
A storm that pounded parts of the Big Island yesterday with more than 20 inches of rain was on its way to Maui, O'ahu and possibly even Kaua'i by this morning.
Big Island Mayor Harry Kim yesterday declared a state of emergency in the Hilo, Puna and Ka'u areas. The island was under a flash flood warning, which means flooding was occurring, said Wes Browning, National Weather Service director of operations. The rest of the state was under a flash flood watch through 2 p.m. today.
Civil Defense, which established a emergency operations center, issued a bulletin that called the situation "critical" for Hilo residents, especially for those in low-lying areas prone to flooding.
No injuries were reported and damage seemed to be limited to some minor house flooding and to weather-related traffic accidents, said Dwight Hosaka, Hawai'i County Civil Defense staff officer.
Three people sought refuge at an American Red Cross shelter set up at Afook Chinen Civic Auditorium. But the storm knocked out power to the shelter.
"We have tremendous forces of water coming down our streams right now," Kim said. "It's a lot of rain, even for Hilo. I'm sure we'll surpass rainfall records."
On O'ahu, moderate to heavy rainfall was reported, Browning said.
Rain gauges around O'ahu yesterday showed Poamoho had nearly 4 inches of rainfall over the previous 24 hours, while 1.63 inches of rain landed in the Upper Nu'uanu area.
As thunderstorms were forecast to build overnight and hit Maui and O'ahu, Hawai'i County continued to bear the brunt of the weather.
"The Big Island is just getting hammered with moderate to heavy rain," Browning said. "We don't see it letting up, just continuing to rain, pummeled by heavy rain."
The Hawai'i Belt Highway (Highway 19) - the main road between Hilo and Waimea - was closed yesterday at Ka'awali'i Gulch. Flooding also forced the closure of Highway 11 at Kawa Flats in Ka'u.
Honoli'i Stream on the Big Island overflowed its banks and police reported landslides along the Hamakua Coast. Other locations covered by the flash flood warning are Pepe'ekeo, Papa'ikou, Laupahoehoe, Honomu and Hakalau.
The Hawai'i County Civil Defense Agency urged people to stay home because roadways and highways are flooded - especially for residents in the Waiakea Uka areas and below Kupulau Road.
Bayfront Park was under 3 feet of water, said Pat Engelhard, Hawai'i County Department of Parks and Recreation director, who was in the county civil defense operations center yesterday.
"No one has been forced to evacuate," Engelhard said. "Right now, it's voluntary. But it's been raining forever. The streams are raging."
The trade winds are expected to weaken somewhat today and tomorrow, bringing more typical weather for the start of the week.