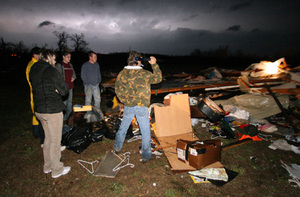 ©Mark Schiefelbein/AP
Lightning flashes through the sky as neighbors look through the wreckage of a home destroyed by a tornado near Niangua, Missouri, on Monday, January 7, 2008.
A freak cluster of tornadoes raked across an unseasonably warm U.S. Midwest, demolishing houses, knocking railroad cars off their tracks, and even temporarily halting justice in one courthouse.
Record temperatures were reported across much of the country Monday, and storms continued to pummel the nation's midsection as darkness fell. More warmth and storms were in store for Tuesday.
Tornadoes were reported or suspected Monday in southwest Missouri, southeastern Wisconsin, Arkansas, Illinois, and Oklahoma. Two people were killed in Missouri.
Eleven houses in Wisconsin's Kenosha County were destroyed, five others had heavy damage and four had moderate damage, authorities said. About 13 people were injured, none seriously.
"I have never seen damage like this in the summertime when we have potential for tornadoes," Sheriff David Beth said. "To see something like this in January is mind-boggling to me. This is just unimaginable to me."
Kenosha County Circuit Judge Bruce E. Schroeder, presiding over opening testimony in a murder trial, said he couldn't believe it when a deputy said the courtroom had to be evacuated because of a tornado warning.
"It's a first," he said while waiting with 300 people in the basement.
Southern Air to Blame
Meteorologists said the unusual weather was the result of warm, moist air moving from the south. It brought temperatures hovering near 70 degrees Fahrenheit (21 degrees Celsius) on Sunday and Monday.
Authorities ordered about 500 residents to evacuate the nearby unincorporated town of Lawrence, said Capt. David Shepherd with the McHenry County Sheriff's Office. No injuries were reported, he said.
Elsewhere, the heat was making history. By about noon Monday, Chicago's temperature already had hit 64 degrees Fahrenheit (18 degrees Celsius), breaking a previous record-high of 59 degrees Fahrenheit (15 degrees Celsius) set on January 7, 1907, according to the weather service.
The high in Buffalo, New York, of 59 degrees Fahrenheit (15 degrees Celsius) beat the old record for the date by 5 degrees Fahrenheit.
The high was 66 Fahrenheit (19 Celsius) in Toledo, Ohio, a record that led some University of Toledo students to stroll to class in T-shirts, flip-flops, and shorts. In New Jersey, the Atlantic City International Airport recorded a high of 68 degrees Fahrenheit (20 degrees Celsius), breaking a 10-year-old record by 10 degrees.