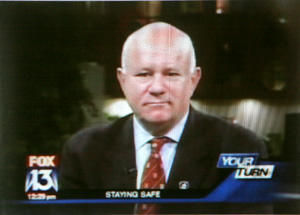 He is already responsible for one Hollywood blockbuster. Now a former Israeli secret agent is planning to turn the Lockerbie disaster into a big screen hit, blaming Iran, not Libya, for the atrocity.
Juval Aviv was behind the book that inspired the acclaimed Steven Spielberg blockbuster
Munich
.
His latest project is a fictional account of the Lockerbie disaster - in which 270 people were killed - and he hopes that the
Jaws
and
ET
filmmaker can make it into a major movie.
Flight 103
- which
alleges that the Iranians and the American secret services were complicit in the atrocity
- will be published early in the new year. The book is
expected to become an international bestseller
, and the former Mossad agent has revealed he is in talks with a number of high-profile Hollywood directors over the film rights.
Among those considering adapting the script is Spielberg - the author's friend and former collaborator. The legendary director hired Aviv as a consultant for his award-winning 2005 film
Munich
, which depicted a campaign by Israel, in the wake of the 1972 Olympic massacre, to hunt down and kill alleged Palestinian terrorists.
Speaking from New York 19 years on from the disaster, Aviv said: "I believe the book will have an impact around the world because what happened over Lockerbie that day affected so many people in so many countries, and continues to do so.
"It's a powerful story that will make a fantastic movie. Some very high-profile directors in Hollywood have seen the book and are very interested.
"Nothing has been signed yet, but I am very optimistic that a deal will be done."
The former major in the Israeli Defence Force believes that Spielberg would be the ideal man to bring his vision to the big screen.
"Steven is looking at the book right now. I worked closely with him on
Munich
and he is someone whom I admire greatly. My initial fear was that Munich could become little more than a Jewish
James Bond
movie. But Steven created a thought-provoking political movie, which showed the heavy toll that the assignment took on the agents who participated."
Aviv, who acted as lead investigator for Pan Am during the Lockerbie inquiry, admits that his book is a thinly veiled account of what he is convinced really happened in December 1988.
In the novel, retired Israeli agent Sam Woolfman discovers that Tehran ordered the destruction of an American plane in retaliation for the US downing an Iranian airbus, carrying 133 civilian partners, earlier in 1988.
The Iranians then enlist an experienced Palestinian terrorist; Ahmed 'The Falcon' Shabaan, to carry out the bloody reprisal.
In the book, the American secret services turn a blind eye to the plot and ensure that three CIA agents, who are due to blow this whistle on a internal heroin dealing racket, are aboard the doomed eponymous flight.
Woolfman, accompanied by his glamorous young Irish sidekick Orla Sheehy, discover that American Embassy staff around the world were warned not to board the Pan Am airliner.
The suggestion that Libya was not responsible for the atrocity was made forcibly by Aviv, who writes under the nom de plume of Sam Green, during the inquiry, but his evidence was rejected.
With a second appeal under way by Abdelbaset Ali Mohmed al-Megrahi, the Libyan convicted for the Lockerbie bombing, the president of investigations firm Interfor is convinced that his version of events will finally be vindicated.
He said: "Flight 103 is written as fiction, but it is based solidly on real-life facts. The US Government urged me to change my report (to the inquiry], but I wouldn't and I fully stand by my version of events.
"I think 2008 will be the year when the truth finally emerges. There is still an innocent person in jail, but hopefully not for much longer."
An earlier appeal by Megrahi in 2002 upheld his life sentence and rejected claims of a miscarriage of justice.
However, screenwriter and film journalist Beth White was unsure if the public was ready for a Lockerbie movie.
She said: "I'm not sure that enough time has passed, but it would certainly attract a huge amount of interest.
"I remember watching a French dramatisation of the events leading up to September 11 not long after it took place and being horrified.
"But in some circumstances, turning real events into entertainment can be justified as it can spark debate."
One industry insider suggested that Harrison Ford would be ideal in the role of the rugged, retired secret agent Woolfman.
He said: "Harrison has already played a similar character in
Patriot Games
where he was Jack Ryan, a CIA agent who becomes embroiled in a terrorist plot.
"I could see Kelly Macdonald playing Orla, his dark-haired young Celtic assistant."
The Lockerbie disaster has featured in Ian Rankin's
Rebus
adventure
A Question Of Blood
as well in the novels
The Passenger
by Chris Petit and
Double Shot
by Anna Blundy.
But
Scotland on Sunday
literary editor Stuart Kelly felt many authors shied away from the subject for fear of causing offence.
He said:
"There's a patina of fear about writing about it."
Flight 103
by Sam Green is published by Century on January 24