A 6.0 magnitude earthquake struck northern Chile on Saturday, the latest in a series of aftershocks to hit the mineral-rich Andean country since a powerful temblor on Wednesday.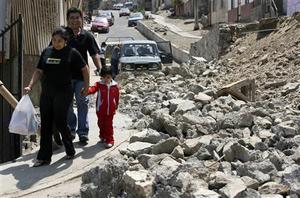 ©REUTERS/Ivan Alvarado
A family walks past a street blocked with debris in the town of Tocopilla, some 1559 km (968 miles) north of Santiago, November 16, 2007.
The epicenter was 41 miles north-northwest of Antofagasta, the U.S. Geological Survey reported.
The quake, near the coast and Chile's border with Peru, struck just 4.3 miles below the surface, but Chilean and Peruvian media did not report any damage or injuries.
A
Reuters
witness said the quake was not felt hundreds of miles (km) south in Santiago, the Chilean capital.
The USGS later said there was an aftershock of 5.2 magnitude in almost the same area.
Earthquakes frequently strike Chile, where most residents live in valleys sandwiched between the Pacific Ocean and the Andes.
On Wednesday, a 7.7 magnitude quake near Antofagasta collapsed homes and large buildings, killing two people and injuring 115 others. On Thursday, two aftershocks with magnitudes of 6.2 and 6.8 hit northern Chile.
At least 15,000 people were left homeless by Wednesday's quake, which temporarily halted production at Chile's huge copper mines by cutting off power, the government has said.
(Reporting by Manuel Farias in Santiago and Terry Wade in Lima; Editing by Vicki Allen)