The threat of serious flooding along England's eastern coast receded Friday after officials said the main tidal peak had passed, although storms were still causing problems elsewhere in Europe.
Hundreds of people who were evacuated from their homes were allowed to return as a spokesman for Britain's Environment Agency said: "The risk of flooding has diminished and the outlook is for tide levels to fall."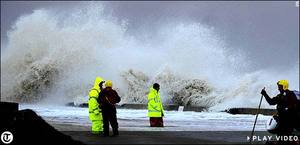 ©telegraph.co.uk
Giant waves pound the seafront at Walcott near Great Yarmouth.
High seas still threatened the Netherlands and Belgium, with the giant surge barrier in the port of Rotterdam closed for the first time since its construction in the 1990s.
Seawall surveillance operations were in force in the north of the Netherlands -- one third of which is below sea-level -- although they have been stood down in other parts.
In Belgium, 10 boats trying to enter or leave the port of Anvers in the north could not do so because of high seas whipped up by strong winds.
In Norway, oil production was starting to return to normal after the storms forced the closure of a string of platforms, although BP's Valhall installation remained shut.
And US firm ConocoPhillips said it was to carry out inspections on seven platforms in the Ekofist oilfield which were closed, but a spokesman could not say when production would restart.
Flood warnings were also issued in Sweden, particularly along the southern and western coasts, and Germany, around the Elbe and Ems rivers.
Britain's Environment Agency had warned of "extreme danger to life and property" along eastern coastal areas and issued eight severe flood warnings.
Prime Minister Gordon Brown chaired a dawn meeting of emergency planning committee Cobra, the second in 12 hours, while the Thames Barrier, which controls water levels on the river running through London, was closed.
"The national government stands ready to help the local communities," Brown said after the meeting. "We will be able to assess what is happening over the course of the next few hours."
The level of the surge in Britain was expected to be around 2.7 metres with a peak at around 0800 GMT but in practice there was only localised flooding on the east coast.
Forecasters the Met Office say they expect winds to drop Friday.
Environment Secretary Hilary Benn defended the government's high-alert reaction to the floods, saying it was right to prepare for the worst.
"You only have to think about what people would say if we hadn't taken all the precautions that we have and, in fact, if the storm surge overtopped the defences," he told Sky News television.
"We may still see that and there probably will be some flooding. We don't yet know what the extent of it will be, but this is the right thing to do."