Hundreds of families were fleeing their homes in Somalia's southern region of Lower Shabelle, where floods swept villages and destroyed crops, residents and witnesses said Tuesday.
Local elder Abdi Omar Hirabe said floods engulfed the villages of War Gedow, Malable and Dolo Dhere, about 60 kilometres (40 miles) south of the war-torn capital Mogadishu.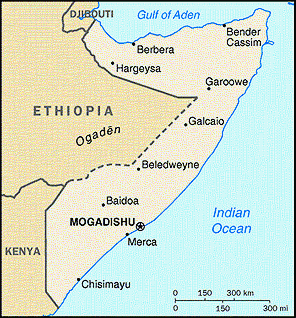 ©Unknown
"The floods destroyed about 12 square kilometres (3,000 acres) of farmland," the elder told
AFP
. "Everybody fled to safer areas with very minimal food. We have counted around 120 families who left War Gedow alone."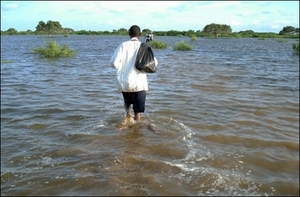 ©AFP
A Somali man wades through flood waters as he leaves his village, west of Mogadishu.
Another local elder, Aw Gadudow, said that movements were greatly restricted in the area and that some families were trapped by the floods. "You can see them walk in the water with their children on their head," he said.
The latest floods in a region known as Somalia's breadbasket will only compound what is already described as one of the world's worst humanitarian crises.
Towns outside Mogadishu are already overwhelmed by tens of thousands of people who have fled fighting in the capital between Ethiopian-backed government forces and the Islamist-led insurgency.
In addition, the fertile Shabelle region has been experiencing its worst cropping seasons in 13 years.
In a statement issued Monday, the UN's Food and Agriculture Organisation said that the current cereal production season in southern Somalia was "only 31 percent of the of the 1995 to 2006 post-war average."
The violence of the combats in Mogadishu has greatly impeded humanitarian assistance to the Horn of Africa country, which has been plagued by civil conflict since the 1991 ouster of Mohamed Said Barre.