Mexican soldiers dug on Tuesday for victims of a giant mudslide that buried a village when torrential rains caused a soaked hillside to collapse.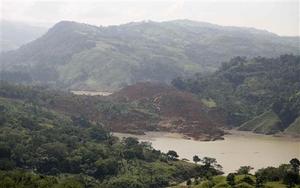 ©REUTERS/Tomas Bravo
A view of the mudslide that buried the village of Juan del Grijalva in the southern Mexican state of Chiapas November 6, 2007.
A wall of water and mud over half a mile long engulfed Juan de Grijalva on Sunday night, smothering houses under tons of earth and rock. Three bodies, including a woman, have been found, rescue teams said, and at least 13 more people are feared dead.
"The sound was like a helicopter coming," said Carolina Hernandez, 16. "My dad died with my two little sisters," she said while relatives hugged her.
The mudslide left a huge brown stain on the green tropical hills of Chiapas state before falling into a river and kicking up a huge wave that hit the village.
Scuba divers were searching the Grijalva River for survivors or bodies.
"We are in the process of handing over the bodies to family members. We hope we don't find more dead, we hope to find people alive," said Chiapas civil protection spokesman Salvador Cervantes.
Locals said the death toll could reach more than 30.
Francisco Navarro, 42, searched the water in a fishing boat. "There are many people from the village who haven't appeared," said Navarro, a teacher who said he had lost nine relatives, including a brother.
News from the village, perched on a remote mountain, took almost a day to reach the outside world. Initial reports said the accident happened on Monday.
The rains that triggered the mudslide had already flooded Tabasco state downriver, forcing some 800,000 people from their homes in one of Mexico's biggest natural disasters.
Much of Tabasco was still under water after the floods last week. Gov. Andres Granier put the economic cost of the disaster at 50 billion pesos ($4.7 billion).
President Felipe Calderon, who canceled a planned trip to an Ibero-American summit starting in Chile on Thursday, promised 7 billion pesos ($655 million) in government aid for the flooded areas. "I know it is not enough but it is a start," he said in a tour of the region.
FLOATING CARS
Three people have been reported dead in Tabasco, an oil-producing state, but many have lost their livelihoods and the region's economy has been devastated.
In the state capital Villahermosa, new luxury vehicles floated in car showrooms as the brown flood waters engulfed the city, while many businesses suffered looting.
The federal government began pumping water from Villahermosa, home to half a million people, on Tuesday and Calderon said it plans to carry out a massive fumigation program to prevent waterborne diseases. But most residents are unlikely to return for up to three months.
Many of the areas worst hit by the flooding have been turned from woodland into farmland in recent decades, removing forests that could have reduced the effects of the flooding.
"It's not a coincidence that the consequences have been most serious in regions where deforestation has been heaviest, like Chiapas," said Hector Magallon of the environmental group Greenpeace.
(Additional reporting by Adriana Barrera and Robin Emmott; Editing by Eric Beech)