A Welsh village has been devastated by a 'tsunami' wave of water even though it is 20 miles from the sea.
Ten people were rescued and three homes evacuated when a canal burst its banks - sending a 4ft wave surging through the country village.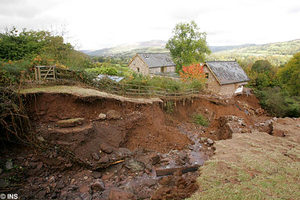 ©INS
There is still mystery surrounding why the village's canal burst it's banks trailing tonnes of mud and debris into villagers' homes.
Families in Gilwern, near Abergavenny, South Wales, have been clearing up after thousands of gallons of canal water carried tons of mud and debris into their homes.
Mystery surrounds the reasons why the 200-year-old Brecon and Monmouthshire canal burst its banks - sending the torrent down a hillside into the village.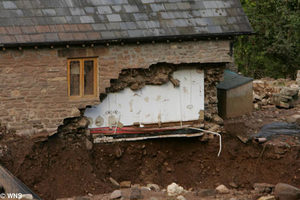 ©WNS
Walls were knocked down by the force of the waves which washed thousands of gallons of water through the village.
Villager Corrin Weeks, 57, told how the 'tsunami-like wave' struck just after 7am when most families were still in bed.
She said: "It is terrible what has happened here, and there was no warning it was about to happen.
"A huge crater has been left next to one house and the canal has very little water left in it.
"It really is shocking, and the residents and businesses here will be badly affected.
"It's amazing that no-one was hurt but some people have been moved into bed and breakfast accommodation."
The worst affected house was the converted barn of businessman Wyn Davies, his partner Gill Mackey and children Kai, ten, and Celyn, nine.
Mr Davies, 42, said: "Kai woke up just after 7am and looked outside the see the field outside had turned into a river. He thought it was a bad dream and went back to bed.
"But within minutes we realised what had gone on and water was flooding our house.
"One of the outside walls was knocked down by the force of the water and the mess is incredible.
"The force of the water carried a big dresser from one end of the house to the other. It was incredible.
"It was very frightening but we are just glad everyone is safe."
The force of the water cut a huge chasm into the field next to their home and is feared to have undermined the foundations of their home.
The family were yesterday staying in a bed and breakfast while engineers examine their home which was sealed off for safety reasons.
Derek Latham, the landlord of village pub the Corn Exchange Inn, said: "Water from the canal was travelling straight through the front to the back doors of some houses.
"People were walking around covered in mud."
Eye-witness Tony Smith said: "I saw two children being removed from one of the houses and the water rose so high it was over the bonnet of my Land Rover."
Village councillor Simon Howarth said people who lives near canals should be concerned over other possible leakages.
Mr Howarth said: "It could could have been catastrophic and could have killed people if they had been walking along the canal when it burst its banks.
"It could have happened on a summer's day with lots of people out and about by the canal. It was lucky nobody was seriously injured.
"I'm calling for British Waterways to tell us what went wrong.
"It could be an issue elsewhere. Canals are so old they're not constructed how they would have to be constructed now.
"How many banks of canals are leaking that we don't know about?"
The 42-mile canal was built from 1799 to carry coal to the port at Newport.
British Waterways said the canals were regularly inspected - and that stretch was checked as recently as last week.
A spokeswoman said: "Canals across the UK are checked depending on their age and areas of vulnerability - ranging from monthly visual inspections to thorough structural examinations every 10 years.
"We've put mini dams in to the canal further along, to make sure no more water can escape."
A spokeswoman for Monmouthshire Council said: "The site has now been made secure and measures have been put in place to prevent further slippage.
"The public are strongly advised not to approach the site and we are doing all we can to help the worst affecte families."