Typhoon Nari is forecast to arrive at the southern coast of South Korea later today after pounding Japan's Okinawa islands group with heavy rains and high winds.
The eye of Nari was about 137 kilometers (85 miles) from Yosu, a port city southwest of Seoul, as of 2 p.m. Seoul time, and was moving northwest at 30 kilometers an hour, according to the latest advisory on the Web site of Korean Meteorological Administration. Nari has winds of 155 kilometers per hour.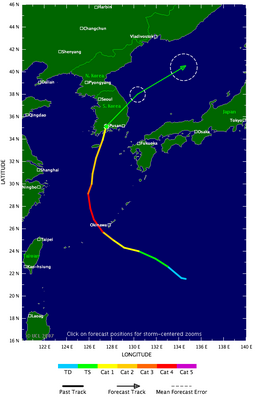 ©TSR
''Nari is likely to hit the southern area of the country between 6 p.m. and 7 p.m.,'' said Kim Jin Chul, an official at the meteorological administration in Seoul. ''It's quite a strong typhoon, but the area that will be affected is small.''
The typhoon has grounded 144 flights and stranded thousands of passengers on South Korea's resort island of Cheju, Kang Sun Moo, an official at the National Emergency Management Agency, said today in a telephone interview. There have been no reports of damage or casualties yet, he said.
South Korean authorities have shut ports in Pusan, Cheju, Yosu and other southern cities after a heightened typhoon alert was issued for the south, west and east coasts of the country, the weather office in Seoul said.
The typhoon has already delivered as much as 500 millimeters (20 inches) of rain in parts of Cheju Island, and the meteorological administration has warned of landslides, blackouts and house inundations.
The typhoon will turn into a so-called extratropical cyclone as of 3 a.m. on Sept. 18, the weather office said.
Nari is the Korean name for a lily, according to the Web site of the Hong Kong Observatory, which lists cyclone names in use in the Pacific. It's the 12th storm of the northwest Pacific cyclone season, according to the Web site of the U.S. Navy Joint Typhoon Warning Center.