Severe storms deluged parts of the upper Midwest during the night with as much as a foot of rain, causing flooding that washed away bridges and roads and killed at least four people, authorities said Sunday.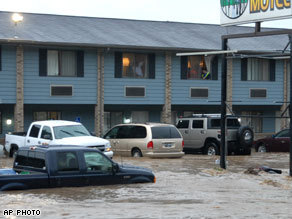 ©AP
Floodwaters surround the Midwestern Hotel in Minnesota City on Sunday.
Part of Winona and smaller towns in the area of southeastern Minnesota and southwestern Wisconsin were evacuated, officials reported.
Rushing floods in Minnesota killed two people in their vehicle near Stockton and two others in a vehicle near Witoka, said Bob Reinert, the Winona County administrator and spokesman for the county's emergency operations center.
Authorities initially said a fifth person had died but Reinert said that fatality could not be confirmed.
"They apparently just drove off the edge of the pavement, and with the floodwaters just were unable to get out of the vehicle," he said.
Reinert said 75 National Guard members had been sent to Winona County to help with security and monitoring closed roads.
Across the Mississippi in Wisconsin, up to 12 inches of rain triggered a mudslide that pushed a house onto state Highway 35 in Vernon County, said Wisconsin Emergency Management spokeswoman Lori Getter. No injuries were reported.
"They've been pulling people out of stalled cars, and evacuating them out of their homes," Getter said, adding that the Wisconsin National Guard had been put on standby.
The Pine Valley West Nursing Home in the Richland Center area of Wisconsin was evacuated, its 18 patients taken to another nursing home, she said. Six patients were moved out of another nursing home in the region.
Numerous roads and bridges were washed out or closed in both states Sunday. Several towns were evacuated, officials said.
"In our situation we've evacuated the city of Stockton, which is probably the hardest hit," Reinert said in Minnesota. Other small cities were also evacuated as well as low-lying portions of Winona, he said.
Residents of downtown Gays Mills, Wisconsin, were taken to a fire station, and a state of emergency was in effect there.
Five cars of a 65-car train derailed outside Goose Island, Wisconsin, and the surrounding area was evacuated, Getter said.
The rain fell from a storm system that stalled over the region, said National Weather Service meteorologist Tod Riech.
"When the showers and thunderstorms set up, they sat there for hour after hour after hour," he said.
He said Wisconsin's Kickapoo River was already at a record crest on Sunday morning, and the Root River in Minnesota was at or near a record.
More rain was possible, Riech said.
Storms from the same system also stretched across parts of Iowa, northern Illinois and southern Michigan into Ohio. Parts of northern Iowa had minor flooding, with no reports of injuries or deaths, officials said Sunday morning.
Oklahoma hit hard, too
Meanwhile, Oklahoma saw its share of weather. Though it isn't a coastal state, that doesn't mean it's immune from the impact of a tropical storm -- or what's left of that storm.
Some heavy rain and high wind from the remnants of Tropical Storm Erin have been flooding homes and roads today, and knocking out power in the Oklahoma City area.
Nearly 20,000 customers of Oklahoma Gas and Electric are without power.
A state emergency response spokeswoman says no serious injuries have been reported from the storm.
Flooding forced an interstate highway near El Reno to be shut down, backing up traffic for miles. A creek overflowed and sent water across the roadway. The highway's now been reopened after about six hours.
News video showed mobile homes that were blown apart in Watonga, and some damage to a hangar and a small plane at the Watonga airport.
More than five inches of rain fell in some parts of central Oklahoma.