A major undersea earthquake rocked eastern Indonesia on Friday, but there were no immediate reports of damage or casualties, the U.S. Geological Survey said.
According to the USGS, the magnitude 6.2 earthquake hit Banda Sea at 12:04 a.m. It was centered 2,520 kilometers northeast of Jakarta and 10 kilometers under the seabed.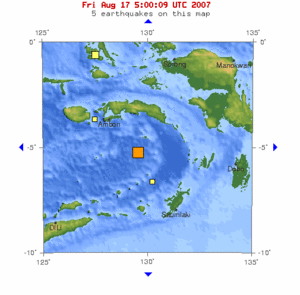 ©USGS
Indonesia, with more than 17,000 islands, is prone to earthquakes as it lies on the so-called Pacific Ring of Fire, which contains more than 75 percent of the world's volcanoes.