Geologists in the Yukon want to find out what caused a massive landslide last week that made one of Canada's tallest mountains a little smaller.
A piece of Mount Steele, the country's fifth-highest peak, suddenly broke away sometime last week, thundering onto the glacier below.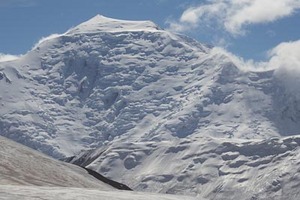 ©Eric DeGiuli
Mount Steele - North Face
Yukon government geologist Panya Lipovsky, who heard of the slide from researchers who witnessed it, said it may have been the single largest landslide in living memory in the territory.
"I've never seen anything this big, and I've never heard of anything this big," said Lipovsky, who flew over the mountain and accompanying Steele glacier to gauge the size of the landslide.
A 400-metre slab of ice and rock fell off the the north face of the 5,067-metre high peak and tumbled down, Lipovsky said Friday.
"The debris dropped about 2,100 metres down to the glacier, and then it travelled across that glacier a distance of about a kilometre and a half," she said.
"And then it went up over a 300-metre high ridge, and some of the debris went down over the other side of that ridge and onto the Hodgson glaciers."
Lipovsky is still investigating what may have caused the landslide, but she said she's concerned it may be thinning glacier ice, possibly linked to climate change.
"They may start happening more frequently," she said. "We'll just have to keep monitoring them and keeping tabs and see if we can see any trends."
As Mount Steele is a popular destination for mountain climbers, Lipovsky said, it was simply fortunate no one was in the area at the time of the landslide.