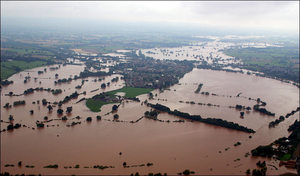 ©Cotswold Aero Club
The Army have begun taking humanitarian aid to Upton-on-Severn, in Worcestershire, after the area was hit by severe flooding.
Drinking water supplies have started to run out in some areas of England worst affected by the flooding.
Up to 4,000 people in and around Bromyard in Herefordshire are without water after a treatment works near Worcester was flooded.
And Severn Trent Water says up to 350,000 people could be cut off as water, in first Gloucester, and later Tewkesbury and Cheltenham, runs out.
Power supplies to 500,000 people in Gloucestershire are also threatened.
Earlier, Environment Agency chief executive Baroness Young told the BBC that about £1bn a year was needed to improve flood defences.
She said more investment was essential because climate change would lead to increased rainfall, but added: "It will take some time to get flood defences into place and it won't completely remove the risk of flooding."
Environment Secretary Hilary Benn defended the government's flood response, saying conditions were "unprecedented".
Mr Benn told BBC News 24's Sunday programme there had been a cut in the Environment Agency's forward planning budget, but capital expenditure was being increased from £600m to £800m by 2010/11.
"This was very, very intense rainfall, with five inches in 24 hours in some areas, even some of the best defences are going to be overwhelmed," he added.
Meanwhile, the Association of British Insurers has said the total bill for the June and July floods could reach £2bn.
Water supplies in north Gloucestershire were running out on Sunday evening after a treatment plant flooded.
Severn Trent Water urged people not to panic and to do all they could to conserve water.
Emergency services in Gloucester are also using sandbags to protect the Walham electricity substation, but 450 homes in Tewkesbury are already without power, along with 150 in Gloucester and 150 in Evesham.
Electricity supplier Central Networks has advised customers to ring 0800 328 1111 to report loss of supply.
Water has also reportedly begun to infiltrate 12th century Tewkesbury Abbey, after the town itself was cut off.
Elsewhere, the Army has taken humanitarian aid to Upton-upon-Severn in Worcestershire and swathes of Warwickshire are submerged.
Severe warnings are also in place for Oxfordshire, Berkshire and parts of London, and the Environment Agency said "serious flooding" was likely in Oxford on Sunday night.
The main developments include:
* Water levels in the River Severn at Gloucester are running at a height of 34ft (10.4m). Flood defences are 35ft (10.7m). Flood water levels are now said to be at the same level as the 1947 floods.

* The Red Cross has been called in to help with the evacuation of about 20 patients from Tewkesbury Hospital. John Ford, from Gloucestershire Primary Care Trust, said they were being relocated from the Severn and Avon wards to other local hospitals.

* Parts of Worcestershire are under 6ft (1.82m) of water.

* Sutton and East Surrey Water has warned 80,000 households and businesses in Sutton to boil tap water before drinking it after the firm discovered rain had leaked into a tank of water which had gone out to customers.

* Wide areas of Berkshire are flooded, including 400 homes in Pangbourne where the main road into town is closed.
The government has refused to comment on a leaked draft of its soon-to-be released Housing Green Paper.
The document, which was obtained by the BBC, says it is "not realistic" to rule out new developments in areas at risk of flooding.
Tap water 'could run dry'
Sir Menzies Campbell, the Liberal Democrat leader, agreed more needed to be spent on flood defences.
"It was known for some days that this was likely to happen. I think there'll be questions asked about the degree of preparedness there was to meet what is obviously a very, very dramatic outcome," said Sir Menzies.
Conservative leader David Cameron, who has called for a public inquiry into the crisis, said people wanted to know why flood defence resources were often miles away from where they were needed.
Rest centre
In one of the RAF's biggest peacetime rescue operations around 100 people in Worcestershire were airlifted to safety over the weekend, while more than 1,000 spent a two nights in emergency rest centres.
Despite the heightened risk of flooding to central and southern England, the Met Office does not have any severe weather warnings in place.
The BBC Weather Centre said outbreaks of rain are expected, some heavy, across the north east of Scotland on Sunday evening, but in Wales showers should be lighter and more scattered, giving some relief to the worst affected areas in the east around the River Wye.
BBC forecaster Susan Powell said more rain was expected on Monday, but most would be away from the severely flooded parts of the Midlands.
Instead, she said concern could shift to areas in southern England, close to the River Thames, where an inch of rain could fall on Monday.