A heat wave sweeping central and southeastern Europe killed at least 13 people this week, with soaring temperatures sparking forest fires, damaging crops and prompting calls to ban horse-drawn tourist carriages.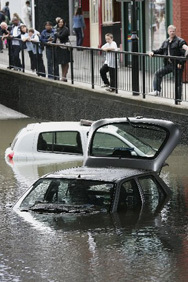 ©Sang Tan/AP
Two cars are left stranded after torrential rain caused flash flooding on a road in Wallington, South London, on Friday.
In Romania, where temperatures reached 40 C Friday, the Health Ministry said at least nine people had died since Monday due to heat.
In Austria, where highs had hovered around 35 C for days, the Health Ministry said three deaths Thursday were likely heat-related. Austrian media said at least five people had died from the heat, including an elderly woman who collapsed on a Vienna street Friday.
A 56-year-old woman collapsed and died in Zagreb, Croatia, of what doctors believed was a heat-related heart attack. Temperatures in the Balkan country reached about 40 C Friday.
Elsewhere, authorities in Slovakia and Hungary distributed free water in some cities. In the eastern Hungarian town of Kiskunhalas, temperatures reached a record 41.9 C, according to the national weather centre.
Greece's Fire Service reported 115 fires Thursday, and firefighters struggled Friday to contain a blaze at an old army base near Athens, where temperatures reached 41 C. France, not affected by the heat wave, sent some firefighting planes to Greece to help out.
Heat also sparked forest fires in parts of Italy, Romania and Bulgaria, where a state of emergency was declared in the southern districts of Haskovo and Stara Zagora. Strong winds and high temperatures complicated efforts to contain the blazes and Bulgarian authorities called on army and police units for help.
The extreme heat and lack of rain was also a concern for farmers.
In Romania, an industry group estimated the agriculture sector had suffered more than C$2 billion in damages due to severe drought. The government has declared a state of disaster in 34 out of 42 counties so far and is paying farmers some compensation.
In Austria, steady sunshine and lack of rain have taken a toll on grapes in Burgenland, one of the country's wine-growing regions.
"In the vineyards, there are first signs of 'sunburn' damage," Franz Stefan Hautzinger, president of the region's agriculture association, told the Austria Press Agency.
Also in Austria, an animal rights group called for a ban on horse-drawn carriages popular with tourists in the capital, Vienna, especially on particularly hot days.
Britain, meanwhile, was out of step with the continent, as more than a month's worth of rain fell in some areas Friday.
Residents across southern England reported flooded neighbourhoods, and London's Underground closed subway lines and stations across the city because of flooding.