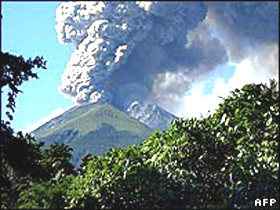 ©AFP
Indonesian authorities have raised the status of Mt. Gamkonora in eastern Indonesia to top alert since Monday after it spewed ash and smoke, while thousands of people living on its slope have been evacuated, the Center of Volcanology and Geological Hazard Mitigation said Tuesday.
The center issued an early warning at 4:30 p.m. Monday,
raising the status of the 1,635-meter volcano from orange to red, the highest level, which means eruption is possible within 24 hours.
The volcano is located in Ibu district on Halmahera Island, about 2,700 kilometers northeast of Jakarta.
According to the center, the decision to raise the level was taken after continuous earthquakes had been recorded from 6 a.m. to 9:30 a.m. Monday.
"Thick smoke as high as 500 to 1,000 meters from the peak of Mt. Gamkonora has been frequently seen and on 4:30 p.m. Monday, it spit volcanic ash as high as 4,000 meters," the center said in a statement.
"Ash went down to nearby villages, including Gamkonora, Tobelo, Sarau, Talaga and Bataka, about 7 km from the peak," it added.
It also called on local residents and tourists not to climb the volcano.
The state-run news agency Antara quoted West Halmahera Regent Penta Nubela Nuara as saying about 2,000 people living on the slope of the volcano have been evacuated. No immediate casualties or damage have been reported.
The volcano last erupted in 1987.