The storm that walloped the Northeast on Monday, April 16, was the culmination of a five-day weather event and left behind significant conditions.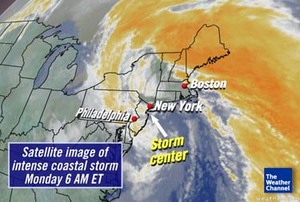 ©The Weather Channel
The storm system developed on Thursday, April 12, over the Southwest, where it caused high winds and dust storms in Southern California and the Desert Southwest.
The storm then pushed east toward Texas by Friday. It produced severe storms across the Dallas-Fort Worth metro area, including six tornadoes over northern Texas.
By Saturday and into Sunday morning, the storm made its way through the Southeast, producing severe storms including tornadoes (at least 18 tornadoes were reported).
On Sunday afternoon, the storm made a push up the Mid-Atlantic coast, then bombed out (rapidly decreased in pressure and quickly intensified) on Monday morning. It reached its peak intensity in the 5 - 7 a.m. ET hours on Monday morning off the coast on central New Jersey, just south of Long Island.
During Sunday night and all of Monday, the intense coastal storm produced many severe impacts:
* Strong onshore winds; some wind gusts were tropical-storm strength
* High waves 10-30 feet high
* Moderate to severe beach erosion
* Coastal flooding especially along the Long Island Sound and northern New England coastline
* Interior Northeast snow (generally 1-2 feet) including northeast Pennsylvania, central N.Y., and northern New England
* Daily record rainfall amounts in numerous cities from the Mid-Atlantic to northern New England with significant flooding especially in the New York City metro area and northern New Jersey
Storm Highlights

New York City
* 7.57 inches of rain on April 15. Second wettest day recorded since September 23, 1882, when 8.28 inches of rain fell.
* Rainfall around the New York City metro area produced likely the worst flooding since Hurricane Floyd in 1999.
* April 2007 rainfall: 10.82 inches. This is now the second wettest April on record. The wettest April on record was in 1983 when 14.01 inches of rain fell.
Philadelphia
* Barometric pressure reading of 28.82 inches, the lowest April pressure on record. The old record was 28.91 inches set on April 2, 1970.
Observation station at Ambrose Light, N.Y.
* Storm's lowest recorded pressure bottomed out at 28.53 inches or 966 mb.
Central N.Y. and Northeast Pennsylvania
* According to the National Weather Service office in Binghamton, N.Y., this storm will go down as one of the greatest April snowstorms on record in terms of snow amounts.
Binghamton, N.Y.
* An April record of 11.7 inches of snow fell on April 16. This surpasses the old April record of 11.5 inches set on April 9, 1960.
Mount Washington Observatory, N.H.
* Recorded a peak wind gust of 156 mph on Monday, April 16. According to the observatory, this is only the third Category 5 strength wind gust since 1996.
Passaic River near Little Falls, N.J.
* The Passaic River here is cresting at 11.9 feet, 4.9 feet above flood stage, the highest since April 7, 1984. The record was in 1903 at 10.5 feet above.
Selected rainfall totals:
Location Inches
Riverdale, NJ 9.30
New York City (Central Park) 8.51
E. White Plains, NY 8.22
Sanford, ME 7.97
Teterboro, NJ 7.50
New Hartford, CT 7.35
Lambertville, NJ 7.25
LaGuardia Airport, NY 7.00
Stamford, CT 6.84
Newark, NJ 6.36
Roxborough, PA 6.22
Mount Holly, NJ 6.08
Philadelphia, PA 5.09
Portsmouth, NH 5.01
Selected snowfall totals:
Location Inches
Moravia, NY 22
Bear Creek Village, PA 20
Blue Mountain Lake, NY 19
Boonville, NY 19
Lebanon, NY 19
Ava, NY 18
Forest Lake, PA 17
Warren, VT 17
Randolf, NH 16
Binghamton, NY 12.7
Peak wind gusts:
Location MPH
Mount Washington, NH 156
Cape Elizabeth, ME 81
Blue Hill, MA 72
Cutler, ME 72
Providence, RI 60
Wilmington, DE 60
Cape May, NJ 60
Dulles Intl. Airport 57
Wildwood, NJ 51
Sources: National Weather Service, Mount Washington Observatory, National Data Buoy Center, The Hydrometeorological Prediction Center