More snow fell on parts of the Midwest Thursday, a day after a deadly storm grounded hundreds of flights, postponed a baseball game, iced up roadways and disappointed those longing for the warmth of spring.
A jet trying to land in heavy snow skidded 50 feet off a runway in Traverse City, Mich., early Thursday. The plane remained upright, and the 46 passengers and three crew members were unhurt, Pinnacle Airlines spokesman Phil Reed said.
Six deaths elsewhere were also blamed on the slick conditions.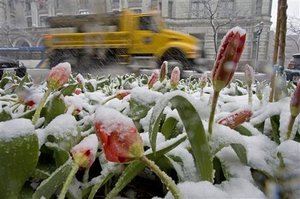 ©AP Photo/Morry Gash
Some areas of the Midwest got more than 9 inches of snow, with another inch or more expected Thursday morning as drizzling rain turned back to snow.
"I think we are all cranky about the weather," said Pat Rowe, spokeswoman for Milwaukee's General Mitchell International Airport, which had delays and cancelations Wednesday.
"I think it's terrible," said Molly Gray, 22, a senior at the University of Wisconsin-Madison. "It's the reason why I'm never living in the Midwest again after this year."
The 3 inches of snowfall recorded at Chicago's O'Hare International Airport surpassed its record for that day of 2.3 inches set in 1957.
Milwaukee also broke a snowfall record for the date with 7 inches; the previous record of 3.2 inches was recorded in 1997. The town of Taylor, in west-central Wisconsin, had 9.5 inches. North Dakota and South Dakota got about 7 inches of snow. Some areas of northern Illinois reported up to six inches.
"It's kind of flying sideways," hardware store owner Harvey Neu said in Menomonee Falls, Wis. "It's not like a gently falling snowfall. It's more of a get-out-of-my-face type of thing."
The storm temporarily knocked out power for tens of thousands of homes and businesses. More than 550 flights were canceled at O'Hare International Airport because of poor visibility, said city aviation spokesman Gregg Cunningham.
Wednesday's Houston Astros at Chicago Cubs game had to be postponed because of the storm. Last weekend, heavy snow wiped out scheduled Mariners-Indians games for four straight days at Cleveland. The Indians moved their home stand against the Angels to Milwaukee's enclosed field.
In Minnesota, slick roads apparently caused a pileup involving at least 70 vehicles along Highway 169 just southwest of Minneapolis. At least two people were seriously injured, the State Patrol said. Six people were killed in two separate accidents in Iowa, including a woman and her two children whose minivan collided with another minivan in the state's south-central region.
As a precaution, 177 snow removal trucks hit Chicago's streets Thursday morning in anticipation of rush-hour traffic, according to Matt Smith, a spokesman for the city's streets and sanitation department.
Snow this late is not that unusual, said weather service meteorologist Andrew Krein in Chicago.
"Typically every few years we'll get some snow in April," Krein said. "Snow in April is not unheard of."