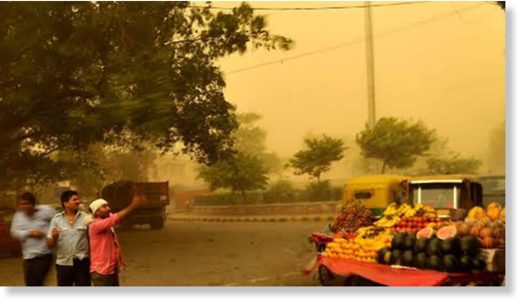 At least 16 were killed and over 25 injured in yet another thunder and hailstorm that wreaked havoc in over a dozen districts in Uttar Pradesh on Wednesday night.
Earlier, 73 people were killed when a high-velocity storm hit different parts of the state about a week ago.
Reports reaching the state headquarters claimed that four persons in Etawah and Agra, three in Mathura, two in and Ferozabad, one each Aligarh, Hathras and Kanpur Dehat were killed in separate incidents of house collapse/tree and electric pole felling and lightning.
Reports claimed that Western parts of Uttar Pradesh, particularly the Agra division, was worst-affected again when yet another 68 Km/hour high-velocity winds hit the state, third in less than two months. The met department had warned about the storm in advance.
The thunderstorm was followed by a hailstorm that caused more damage to human lives, livestock, and crop. In Mathura, 33-year-old Bhagwati Singh riding a tractor was caught in the storm near Khanjara Baans village. He was crushed to death when his tractor toppled on him due to strong winds.
Shakuntala Singh (55) was electrocuted when an electric pole fell on her in Maant tehsil in Mathura district. A resident of Mahawant village in Mathura, Mukhypyari (60) died in a similar incident when an electric pole fell on her.

A 15-year-old boy died when lightning struck him at Mohabbatpura village in Hathras district. In Etmadpur in Agra, two people were killed when the roof of their house caved in.
The Chief Minister Yogi Adityanath has directed district magistrates in affected areas to provide immediate compensation to the families of victims and personally supervise relief and rescue operations.
The Relief Commissioner Sanjay Kumar said that teams of disaster management have been rushed in these districts to speed up the relief and rescue operations. "More funds have been allocated to the worst affected districts for providing immediate relief to the families of victims," said he.
Earlier, at least 73 persons were killed and over 100 injured when the storm hit western parts of Uttar Pradesh about a week ago. The Chief Minister Yogi Adityanath, who was on a three-day campaign tour to poll-bound Karnataka, had to cut short his tour. He rushed back to Agra to meet the families of the victims and injured.