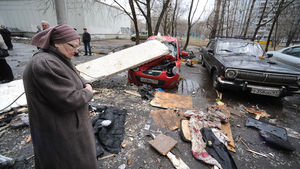 Three people, including a child, died and as many as seven others have been injured in a fire and explosion in an apartment building in Moscow. The blast was so strong that a balcony was dislodged and several cars nearby damaged.
The three dead in a fire which followed the explosion in one of Moscow's apartment blocks are a man, a woman and a little girl.
"
17 people sought medical help, including four children. Seven were hospitalized with two children among them
," according to Russia's Emergencies' Ministry official, cited by ITAR-TASS.
One of the injured is a 14-year old teenager who sustained burns of up to 60 per cent of his body according to reports from the capital's Medvedkovo neighborhood in the north. Another of the injured is reported to have 100 per cent of burns to the body.
The fire on the sixth floor of the 16-story building broke out late on Friday evening. Reports about the explosion were backed up by witnesses who posted about it on social networks, saying they could even "
feel the blast wave
".
The fire could have been caused by explosion of two gas cylinders on the balcony of one of the apartments, according to police.
The house did not have a central gas supply system.
The fire, which damaged three apartments, blew out windows and damaged several cars parked nearby, is now extinguished and rescue workers are cleaning up the site. Two hundred people who were evacuated from the building by the firefighters have been allowed to return home.