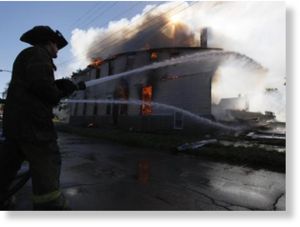 As Detroit continues to work through its financial difficulties, the city will lay off 164 firefighters by the end of July, Detroit Mayor Dave Bing's office announced Monday.
The layoffs could be temporary, as the city hopes to secure a federal grant that would restore the jobs of 108 firefighters. Still, there is no guarantee the city will be awarded the grant, Detroit Fire Commissioner Donald Austin said during budget talks this spring.
"Since I became mayor, I've made public safety my top priority, and I've said I would protect the jobs of police and firefighters, but fiscal realities have made this untenable," Bing said in a statement. "With my administration continuing to work to fiscally stabilize the city and with recent cuts to the city's budget, we're announcing the layoffs of 164 Detroit Fire Department firefighters by the end of July."
Bing said he hopes that many, if not most, of the remaining 56 firefighters who will lose their jobs will be recalled as the fire department loses others through retirement and attrition. The layoffs represent nearly 19 percent of the fire department's 881 sworn firefighters. There are also 248 EMS technicians.
Dan McNamara, president of the Detroit Fire Fighters Association, called the layoffs disastrous and said the action will force 16 fire companies throughout the city to close.
"For as long as we've been fighting fires in the city of Detroit, we have guaranteed that if you call us, we will come," McNamara said in statement. "If these cuts remain, there will be times when we won't have the necessary resources to respond. ... We have a disaster waiting to happen that will likely result in not only the loss of property, but potentially the loss of lives."
McNamara said Bing is calling for $23 million in cuts from the department, cuts that "will put its fire department and its residents at great risk -- increasing response times and further taxing an already greatly reduced workforce."
In his statement, Bing said Austin and his staff have developed a plan to maintain the highest levels of fire service by:
Deploying engines from adjacent sectors and using newly installed GPS systems in the engines and rigs to best dispatch fire department personnel.
Conducting thorough risks/gain analysis of interior versus exterior fire suppression.
Continuing community fire prevention education.
"Laying off any of our courageous and dedicated public safety personnel is the last thing I want to do at this point, but I have to face this hard reality," Bing said.
Source: Detroit Free Press