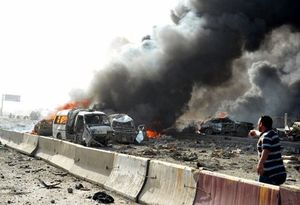 Perhaps in an attempt to soften coming revelations that Syria's opposition will be increasingly armed and backed by the West for a final military push to divide and destroy a sovereign Syria, Reuters released a report titled, "
Outgunned Syria Rebels Make Shift to Bombs
." The report admits that the Syrian rebels, depicted so-far as hapless pro-democracy protesters, are now turning to bombing tactics.
Reuters quotes one rebel fighter as saying, "we are starting to get smarter about tactics and use bombs because people are just too poor and we don't have enough rifles." The unnamed rebel continued, "it is just no match for the army, so we are trying to focus on the ways we can fight." Reuters attempts to allay the fears of its readers by claiming rebels they interviewed insisted that, "unlike al Qaeda, their bombs were aimed at military, and never civilian, targets."
Paradoxically, however, the Reuters story reveals that the rebel bombing campaign is being carried out by Sunni "hardliners" who learned their bombing skills from fighting (and killing) US troops in neighboring Iraq - or in other words, the very "al Qaeda" the rebels claim they are not like. A "Syrian Liberation Army" spokesman also admitted that his fighters were operating "manufacturing facilities" for bombs - like
the one in Hama that recently exploded, killing 70
and leveled the greater part of a city block.