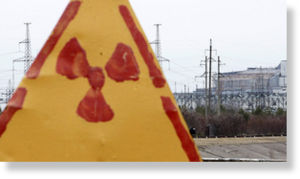 Six tanks at the Hanford Nuclear Reservation are leaking an estimated 1,000 gallons of nuclear waste each year. And with billions of dollars in automatic spending cuts about to occur, the US government may not have the funds to clean up the mess.
Three underground tanks at the Washington-based nuclear reservation were last week found to be leaking at an initially-estimated rate of 300 gallons of waste per year. But Department of Energy investigators this week discovered three additional tanks were leaking, bringing the total estimated annual waste to 1,000 gallons per year.
The Hanford Nuclear Reservation, which was established in 1943 as part of the Manhattan Project, is mostly decommissioned but still holds two-thirds of the nation's radioactive waste in its 177 tanks. The millions of gallons of radioactive material, which still remain from Cold War-era plutonium production, are highly dangerous and are quickly dripping into American soil.
Leaks were discovered years ago, but the Department of Energy said the problem had been solved when it was initially discovered in 2005.