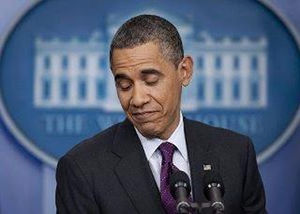 Arabs don't trust Obama either.
As 2013 ends, President Obama has lost credibility with many people who trusted him at the start of the year. Thanks to the Healthcare.gov debacle, polls find support for the president among women and independents has dropped to the lowest ebb of his presidency. Obama's words -- promising Americans they could keep their doctors under his health care plan -- didn't match his deeds.
Surprisingly, the same thing is happening on the other side of the world among Arabs in the Middle East and for the same reason.
Too often, Obama's speeches and actions don't match.
"We are glad the Americans are here," said Ahmed al-Ibrahim, an adviser to some of Saudi Arabia's royals and officials, when I met with him recently, "but we fear that the president has lost credibility after Syria."
The Saudi official is referring to Obama's "red line" vow of military action if the Syrian dictator Bashir Assad used chemical weapons against his own people. Assad did and Obama didn't. Saudi officials were stunned.