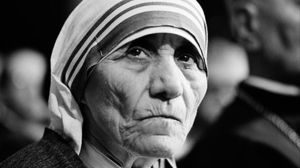 Mother Teresa was a sadistic religious fanatic who took pleasure in the suffering of others, and denied appropriate medical care to the sick and dying, according to a recently released study.
The study, published by Canadian researchers in the journal of studies in
religion
and sciences called
Religieuses
, claims that Mother Teresa was "anything but a saint." The study reports Teresa was generous with her prayers but miserly with her foundation's millions when it came to alleviating the suffering of the sick and the poor.
Researchers
report
Mother Teresa saw beauty in suffering, and was far more willing to pray for those in her care rather than provide practical medical treatment. In addition to her medical malpractice and her perverse and sadistic enjoyment of the suffering of others, the study also raises questions about Teresa's financial mismanagement of large sums of money, and her friendship with unsavory and immoral world leaders.
Yet despite serious
questions
about Teresa's character, motivation and methods, as well as concerns about her suspicious financial dealings and contacts, the Vatican engaged in a well orchestrated public relations campaign to manufacture a Catholic hero, even going so far as to take the unprecedented step to forgo the usual five-year waiting period before her beatification, the first step on the path to sainthood.