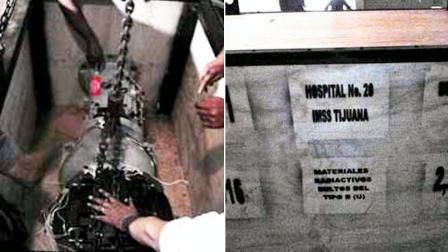 A missing shipment of radioactive cobalt-60 was found Wednesday near where the stolen truck transporting the material was abandoned in central Mexico, the country's nuclear safety director said.
The highly radioactive material had been removed from its container, officials said, and one predicted that anyone involved in opening the box could be in grave danger of dying within days.
The cobalt-60 was left in a rural area about a kilometer (a half a mile) from Hueypoxtla, an agricultural town of about 4,000 people, but it posed no threat or a need for an evacuation, said Juan Eibenschutz, director general of the National Commission of Nuclear Safety and Safeguards.
"Fortunately there are no people where the source of radioactivity is," Eibenschutz said.
Commission physicist Mardonio Jimenez said it was the first time cobalt-60 had been stolen and extracted from its container. The only threat was to whoever opened the box and later discarded the pellets of high-intensity radioactive material that was being transported to a waste site. It had been used in medical equipment for radiation therapy.
"The person or people who this took out are in very great risk of dying," Jimenez said, adding that the normal survival rate would be between one and three days.