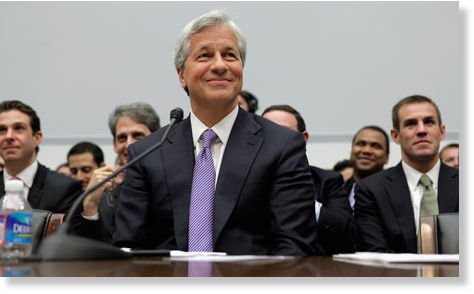 Chairman Jamie Dimon sends letter to staff warning of 'more to come' after regulators hit bank with fine
Last spring the City of London was rife with rumours about a trader at the vast JP Morgan investment bank who was making such huge bets on the highly complex - and deeply risky - derivatives markets that he was known as "the London Whale" or "Voldemort". After racking up losses of $6bn (£3.7bn) from his reckless trading, the London Whale blew another hole in the bank on Thursday - landing the Wall Street firm with one of the largest fines ever levied against a single bank.
The Whale was a French-born trader, Bruno Iksil. When stories of his dangerous dealings and the scale of the potential black hole first surfaced, JP Morgan's chairman Jamie Dimon, then Wall Street's most respected banker, shrugged off the losses off with a phrase that will haunt his career: "It's a complete tempest in a teapot," he insisted.
On Thursday, however, the bank agreed to pay some $920m in penalties to US and UK regulators over the "unsafe and unsound practices" that had allowed the bank's losses to balloon to $6.2bn. The near record fine comes as former JP Morgan bankers face criminal action in the US and it has all but sunk Dimon's once promising political career. It is also just one of a series of costly and damaging scandals that are rocking the financial institution.