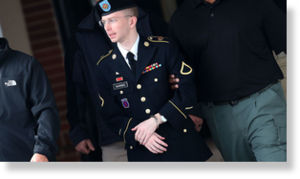 Bradley Manning's defense team will file a pardon request to US president Barack Obama early next week, or will ask to commute the Private's sentence.
"Early next week I will file a request to the President for the pardon of Private Manning, or at least [ask to] commute his sentence," Manning's lead attorney, David Coombs, said during a Wednesday news conference.
Coombs read a statement from Manning, who was sentenced to 35 years in prison for leaking US intelligence to WikiLeaks.
In the letter, Manning says that he leaked the information out of love for his country, and that if the President denies him a pardon "he will serve [his] time knowing that sometimes you have to pay a high price."
In the statement voiced by the counsel, Manning quoted American historian and social activist Howard Zinn, saying, "there is not a flag large enough to cover the shame of killing innocent people."
"We did everything to make sure he got a fair trial, but I don't think the public is going to perceive it as such," added Manning's attorney.