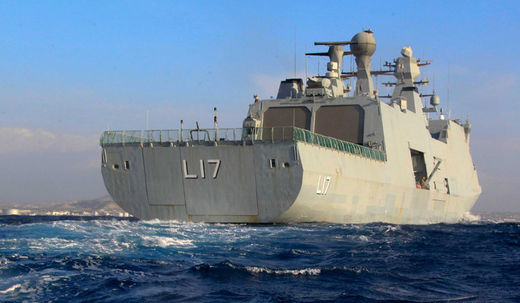 Militants in Syria opened fire on chemical weapons containers in the Cyprus port of Latakia. The incident occurred as they were being loaded onto Danish and Norwegian vessels for further disposal at sea, the Permanent Syrian Representative to the UN, Bashar Jaafari, announced on Friday.

Comment: Latakia is a port in Syria and not in Cyprus as the original article mentions.


He added that,
since the start of the chemical disarmament operation, Syrian terrorists have carried out five attacks against convoys delivering chemical weapons to Latakia.
"This is not the first time it's happened, but this time it is a very serious concern, as fire was opened on the chemical containers in the port of Latakia, where they were loaded onto ships, " said Jaafari. The diplomat said that he has notified the Security Council about these incidents, UN Secretary General Ban Ki-moon, his deputies, Jan Eliasson and Jeffrey Feltman, as well as the High Representative for Disarmament Affairs, Angela Kane.
According to Jaafari, Syrian authorities have evidence that militants were behind the attack. " It's a fact, we have videos, witnesses, " he said.
As was stated by the permanent Syrian representative, the attack on Latakia was carried out by "the same terrorists who came from Turkey through the border town of Kasab" which was captured by militants from the extremist groups "Dzhabhat An-Nusra" and "Ahrar al-Sham" this week and turned into a war zone.
Bashar Jaafari accused the Turkish authorities of helping to organize an attack on Kasab and its surroundings.
"Someone must make the Turkish government responsible for these disturbing incidents," he said.