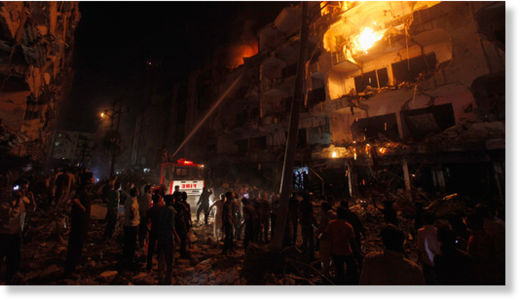 Twin explosions killed at least 45 people and wounded more than 150 in a Shiite Muslim area of Karachi in southern Pakistan, officials said. Nearby apartment buildings caught fire in the bombing.
The cause of the first blast was a remote-detonated improvised explosive device strapped to a motorcycle at the entrance of Abbas Town,

following which a CNG cylinder of a car exploded a few minutes later
, the Pakistani based newspaper
News International
reports.
A suicide bomber is suspected to be behind the attack, Reuters quotes police Inspector General Fayyaz Leghari.
"There were two blasts but it was not clear whether the second was also a bomb", Leghari said.
The first explosion was so powerful that it blew off the facades of several flats facing the explosion. Window panes of most surrounding buildings were smashed, even some doors came off hinges, witnesses told the
News International
newspaper.