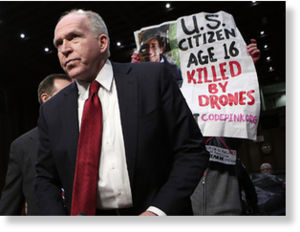 CIA Director-designate John Brennan strongly defended the use of drones for fighting terror suspects as he was grilled by the Senate over one of Washington's most-criticized policies.
John Brennan, President Barack Obama's nominee to be the new CIA chief, had a tough time answering some questions posed by the Senate Intelligence Committee on Thursday. Repeated interruptions by anti-war protesters did not make it any easier for him to explain the advantages of the controversial drone policy.
Brennan assured that any actions the CIA would take "will be legally grounded, will be thoroughly anchored in intelligence, will have the appropriate review process, approval process before any action is contemplated, including those actions that might involve the use of lethal force."
One of those skeptical of Brennan's words is Jayel Aheram, an Iraq War and Marine Corps veteran, activist and writer who, in an interview with RT, expressed his doubt over the possibility and the commitment of the CIA thoroughly to review the situation on the ground from somewhere far away from the United States.
He also questioned the criteria which might be used for such a review, suggesting that "basically anyone over the age of 18 or 16 in a strike zone constitutes a militant. So I could be going to school somewhere in Yemen, going about my day, and if I get obliterated by one of these drone strikes, am I to be considered a militant?"