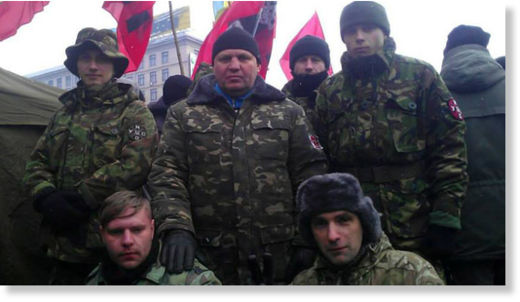 Ukrainian nationalist party Right Sector has announced it holds the acting Interior Minister Arsen Avakov accountable for the death of notorious radical militant Aleksandr Muzychko and will avenge it, Ukrainian media reports.
"
We will take revenge on Arsen Avakov for the death of our brother," said Rovno coordinator of the Right Sector Roman Koval, as
cited
by charivne.info news portal. "The shooting of Sashko Bilyi [Muzychko's nom de guerre] is an assassination ordered by the minister. Muzychko never received any notices concerning criminal offences and was never summoned anywhere."
Earlier, Muzychko, also known as Sashko Bilyi, was proclaimed dead after a police raid against his gang in Rovno, western Ukraine.
During the raid, Muzychko opened fire wounding an officer. He continued shooting even despite being injured in the leg, the Interior Ministry
said
.
"When [the police] attempted to detain him, they found out he was wounded. The medics who arrived at the scene proclaimed Muzychko dead
,"
First Deputy Interior Minister Vladimir Yevdokimov said.