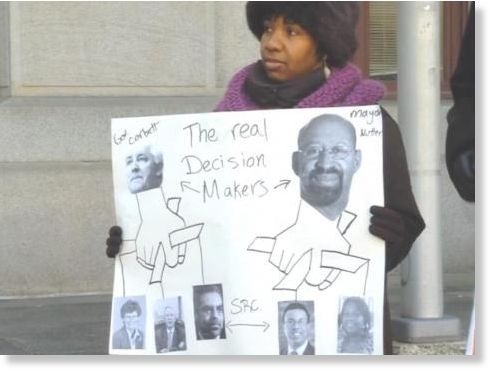 The School Reform Commission voted Thursday night to close 10 percent of Philadelphia's public schools, in a decision that sparked a rally that resulted in 19 arrests.
The decision was
made
after police arrested 19 protesters, including Randi Weingarten, president of the American Federation of Teachers, charging them with disorderly conduct. Over 500 protesters blocked Broad Street in front of the School District of Philadelphia Headquarters.
After three hours of debate the state-run School Reform Commission voted to shutter 23 out of 27 schools up for closure. Commission chairman Pedro Ramos said the closings were "excruciating, difficult and emotional for all of us," but that they helped to restore financial stability.
The closings were opposed by all but one of the 32 people who spoke at the meeting. "The process by which the Philadelphia School District decided on school closures was flawed and must be rejected," said State Representative W. Curtis Thomas.