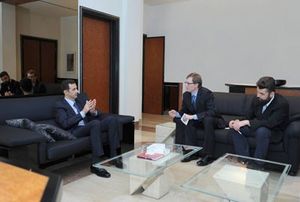 President Bashar al-Assad stressed that Syria is a sovereign country that will fight terrorism and will freely build relationships with countries in a way that best serves the interests of the Syrian people.
In an interview with the Russian newspaper of
Izvestia
, President al-Assad stressed that "the majority of those we are fighting are Takfiris, who adopt the al-Qaeda doctrine, in addition to a small number of outlaws."
On the alleged use of chemical weapons, President al-Assad said that the statements by the US administration, the West and other countries were made with disdain and blatant disrespect of their own publics' opinion, adding that
"there isn't a body in the world, let alone a superpower, that makes an accusation and then goes about collecting evidence to prove its point."
His Excellency stressed that these accusations are completely politicised and come on the back of advances made by the Syrian Army against the terrorists.
Here is the full content of the interview: