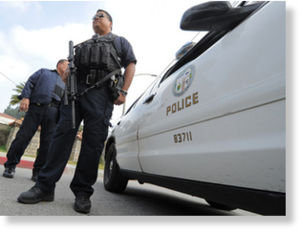 An LA police officer under investigation over claims he threatened women with jail time if they refused to have sex with him is now being sued by a man he and another officer beat nearly to death after trying to extort money from him last May.
Officer James Nichols is included with the City of Los Angeles, the LAPD, the police union and John Miller, another officer, in a $20 million lawsuit brought by Brian Mulligan, a former finance executive. Mulligan alleges that Nichols and Miller nearly killed him last year.
Mulligan's lawsuit claims that in addition to the beating, the LAPD and its union engineered a smear campaign against him that resulted in him losing his job.
Mulligan "suffered a broken shoulder blade and facial fractures requiring several surgeries at the hands of police officers after they stopped him in the city's Highland Park neighborhood and forced him to check into a local motel and stay there against his will," according to The Hollywood Reporter.