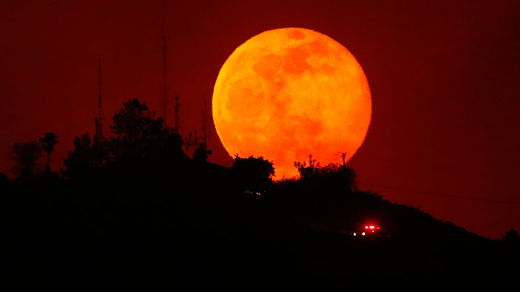 Americans with their eyes to the sky this weekend could get a chance to see Earth's moon as it rarely appears. Starting Friday evening, a so-called "supermoon" will be viewable across the United States.
There will be a full moon in the sky starting Friday night and into early Saturday, and this time around the super-sized satellite will look larger than usual. When a full moon occurs at the same time that its orbit brings it closest to the Earth, as expected this weekend, onlookers are greeted with what scientists at NASA call a "supermoon."
Five supermoons are expected in all during the course of 2014, and two of them already happened in the month of January. Beginning Friday evening, however, Americans will have their third chance this year to see a full moon coincide as the satellite's orbit reaches "perigee" (or "near earth").
Scientists expect that this weekend's full moon will reach perigee at around 222,611 miles away from Earth - around 30,000 miles closer than the moon will be when it's at its furthest this year.