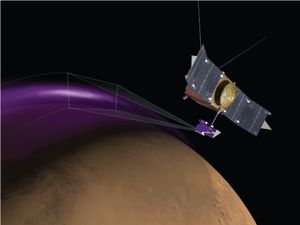 NASA's MAVEN spacecraft has discovered a dust cloud billowing above Mars, up to 1,000 kilometres above the planet's surface. The dust does not threaten spacecraft orbiting the red planet, but the unexpected finding poses big challenges to atmospheric researchers trying to explain where the cloud came from.
"
This is the first discovery of dust or debris at orbital altitudes around Mars
," says Bruce Jakosky, a planetary scientist at the University of Colorado at Boulder and the mission's principal investigator. "
It's hard to understand how this stuff got here
."
Jakosky reported the finding on 18 March at the Lunar and Planetary Science Conference in The Woodlands, Texas. But the dust cloud was not the only new finding from MAVEN, which has also discovered a diffuse, high-altitude aurora glowing above Mars's northern hemisphere.