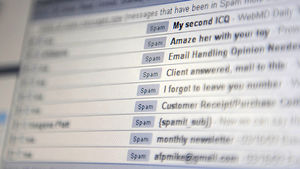 The United States sends more spam by volume than any other country in the world, while Bulgaria emails the most per capita, according to a new tally by security company Sophos. The report covers the second quarter of 2014.
The US has placed first in Sophos' dubious
"Dirty Dozen Spampionship,"
which looks at the top spam-producing countries in the world, for the last four quarters.
The US sent 24.2 percent of the world's spam in the past three months, with France sending just 6.7 percent, China 6.2 percent and Italy 5.2 percent,
according to the company's data.
Playing off the popularity of the 2014 World Cup and the upcoming Commonwealth Games, SophosLabs created two league tables to show off the results of its study. "Just as the soccer World Cup reminds us that football is the 'World Game', because it's played so keenly in so many countries, we hope the Spampionship Tables are a reminder that spam is a global problem that affects us all," the company wrote on its
Naked Security blog
.