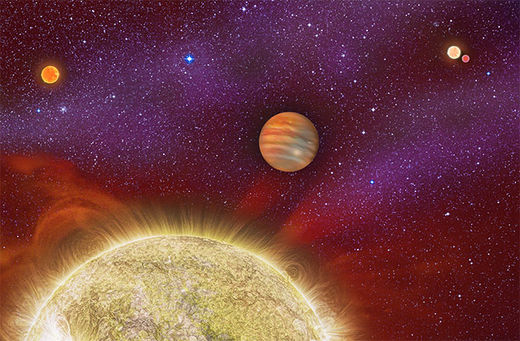 For only the second time, an exoplanet living with an expansive family of
four
stars has been revealed.
The exoplanet, which is a huge gaseous world 10 times the mass of Jupiter, was previously known to occupy a 3-star system, but a fourth star (a red dwarf) has now been found, revealing quadruple star systems possessing planets are more common than we thought.
"About four percent of solar-type stars are in quadruple systems, which is up from previous estimates because observational techniques are steadily improving
," said co-author Andrei Tokovinin of the Cerro Tololo Inter-American Observatory in Chile.
The whole 4-star family is collectively known as 30 Ari, located some 136 light-years from Earth — in our interstellar backyard. The exoplanet orbits the primary star of the system once every 335 days. The primary star has a new-found binary partner (which the exoplanet does not orbit) and this pair are locked in an orbital dance with a secondary binary, separated by a distance of 1,670 astronomical unit (AU), where 1 AU is the average distance between the Earth and sun.