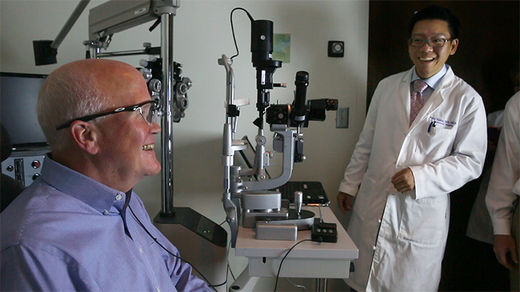 A previously blind man from North Carolina has been granted the ability to digitally see once again through a new "bionic eye" which can transform light into images.
Larry Hester, 66, was blind for 33 years before scientists at Duke University, in North Carolina, switched on the device.
As the "eye" was switched on, Hester jumped from the shock initially, before his face broke into a persistent smile and his wife, Jerry, rushed over to him to share his joy. "Can you really see?" she said, adding: "Can I give him a kiss?"
Hester became only the seventh person in the US to have the eye - and he expressed his good fortune to his doctors.
"I just wonder how I have been so lucky," he said. "Why me? But if I can use what I learn from this to help others with RP, it will not just be for my benefit."
Both Larry and Jerry Hester had lost hope of any improvements in Larry's eyesight until Jerry found an article in a magazine last year.