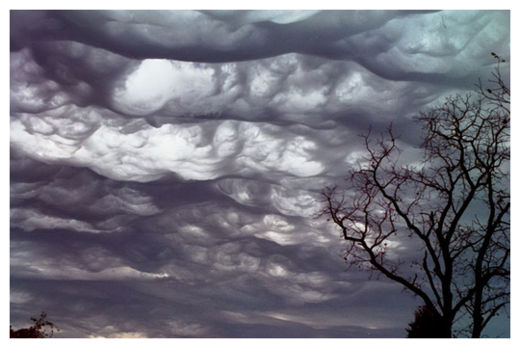 Undulatus asperatus
isn't some obscure anatomical structure next to your peritoneum, nor is it a minor character from the movie
Gladiator.
No, it's actually a type of cloud formation that weather fanciers have proposed for inclusion in the next edition of the
World Meteorological Organization's
"International Cloud Atlas," the ultimate reference source on the varieties of clouds.
Undulatus asperatus
is Latin for "agitated waves," and it basically resembles an enormous, rumpled blanket stretched out across the sky. If accepted into the atlas, it would be the first newly designated cloud formation since 1951. Below is a strikingly beautiful
video
of an
Undulatus asperatus
formation, recorded by cloud watcher Alex Schueth over Lincoln, Neb., on July 9.