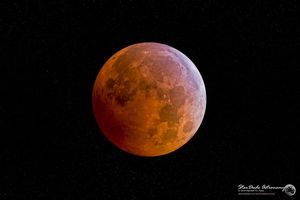 Editor's note: To find out more about the rare supermoon lunar eclipse of Sept. 27-28 and how to see it, visit:
Supermoon Lunar Eclipse 2015: Full 'Blood Moon' Coverage
.
This month's highly anticipated "supermoon eclipse" may be a magical treat for skywatchers, but there's nothing supernatural about the event.
On Sept. 27, skywatchers throughout North and South America, Europe, Africa, western Asia and the eastern Pacific Ocean region will witness a total eclipse that happens to occur when the moon looks abnormally large and bright in Earth's sky. It will be the
first supermoon eclipse since 1982
, and the last until 2033.
This rare celestial phenomenon has its roots in the moon's elliptical orbit around Earth.