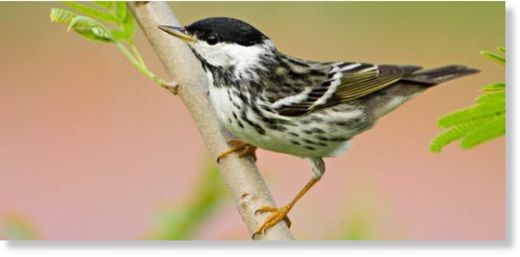 Small creatures can indeed accomplish great feats. A recent research aimed to track the migration route of blackpoll warbler, a small songbird which weighs about 12g - 15g, equivalent to AA batteries.
Researchers from University of Guelph, Acadia University, Bird Studies Canada, the University of Massachusetts, the Vermont Centre for Ecostudies and the Smithsonian Conservation Biology Institute tracked the birds' flight by equipping them with tracking devices. They were attached to birds in Nova Scotia and Vermont in the summer. Researches also put coloured plastic bands for identification when they return. The geo-locators tracked the birds' flight path, but, because of their small size, they were not able to transmit the data remotely.
"We waited for them to return in the spring and then searched the forest to find the blackpolls with geo-locators," said William DeLuca, a research fellow at the University of Massachusetts, who led the Vermont part of the study.