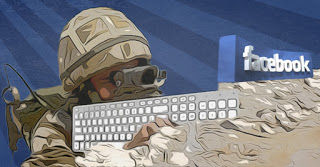 It's highly likely your friends could spot you in a crowd, even if your face were obscured or your back turned. Rather eerily, a recent report revealed that your friends aren't the only ones who can pick you out in a sea of people—Facebook can, too.
In fact, Facebook's algorithms can
accurately identify
an individual user from among 800 million pictures—in less than five seconds—98% of the time.
Using its
artificial intelligence lab
—a rather Orwellian acquisition for a social media platform—Facebook researcher Yann LeCun wanted to determine if the same algorithms already used for facial recognition could be adjusted to scrutinize other cues. LeCun, an expert in computer vision and pattern recognition who came to Facebook in 2013, explained that
identifying cues—like body type or the way a person stands—could be taken into consideration by the technology the way humans already do.