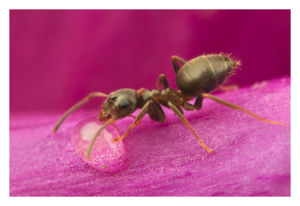 Do they know they don't know?
Ants seem to examine their knowledge, a little like humans do when unsure of which route to take.
Tomer Czaczkes
and
Jürgen Heinze
from the University of Regensburg in Germany let black garden ants find food on a T-shaped maze, with the food always in one arm. Then they switched the food to the other arm, creating uncertainty for the ants.
Ants that headed in the wrong direction were less likely to leave a trail for the other ants to follow.
"It makes, sense," says Czaczkes. "You don't want to give your sisters wrong information."
He says this might show that ants can question their own knowledge, a basic facet of higher metacognition - awareness of one's own thoughts - although it doesn't prove this.
If true, these ants would be just the second reported case of an insect showing such advanced cognitive behaviour.
Browsing through our memories and reflecting on their quality and strength, to double check what we know and then make the best decision, is an everyday task for us.
But it has been confirmed only for relatively advanced species, such as mammals and a few birds. Recent research has shown that
bees, when faced with a particularly difficult task, simply opt out of doing it
- a behaviour that may be interpreted as a form of metacognition.
Now, it seems that ants might be capable of a similar mental feat, despite their tiny and simple brain.