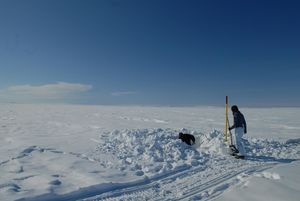 With Mars and Europa out of reach, many scientists have turned to studying some of the Arctic and Antarctic microbes that have adapted to similarly harsh conditions on Earth.
One recent study has traced the evolutionary branches of Arctic bacterial resistance to toxic mercury - an adaptation that appears to have an ancient lineage. The results of a previous expedition to the Arctic found that up to 31 percent of bacteria retrieved from various locations and grown in lab cultures contain the mercuric reductase gene(merA), a genetic sequence that encodes an enzyme that is capable of breaking down toxic mercury into a more harmless chemical form. That's a crucial survival trait, as growing mercury emissions from human sources add to natural sources to dump more than 300 tons of the toxic contaminant in the Arctic every year. The latest research finds evidence of merA having both recent and ancient evolutionary lineages among the samples of Arctic bacteria.
"This suggests that merA has been present in the High Arctic for an extended time period, and that mercury contamination of the Arctic is not a new phenomenon," said Niels Kroer, a microbiologist and head of the Department of Environmental Science at Aarhus University in Denmark. "In other words, transport of mercury to the high Arctic by the atmosphere is a natural process predating the Industrial Revolution."