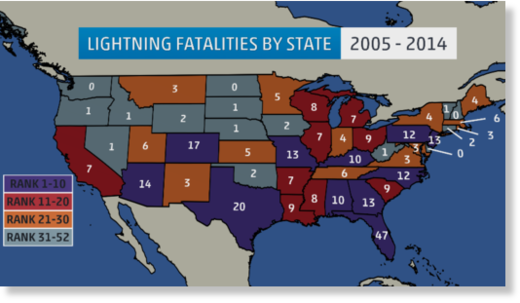 Two maps of lightning fatalities, using data from 2005-2014, offer interesting insight to where the greatest risk is of being killed by lightning.
The data was collected by the National Oceanic and Atmospheric Administration (NOAA) and the maps were compiled by Vaisala Inc., operators of the National Lightning Detection Network, which detects cloud-to-ground lightning strikes anywhere in the continental U.S.
The rankings include all 50 states, plus the District of Columbia and Puerto Rico.
This first map plots the number of deaths for each state from 2005-2014. The states are color coded based on their ranking.
Not surprisingly, Florida, with 47 deaths, is the state with the highest total number of deaths due to lightning over the past 10 years. Second place goes to Texas with 20 deaths, and Colorado is third with 17 deaths.