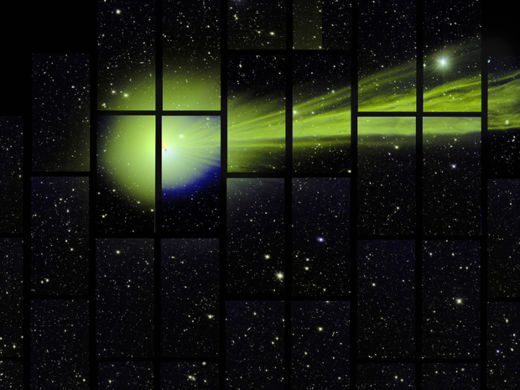 Oops! In a happy accident, Comet Lovejoy just happened to be in the field of view of the 570-megapixel Dark Energy Camera, the world's most powerful digital camera. One member of the observing team said it was a "shock" to see Comet Lovejoy pop up on the display in the control room.
"It reminds us that before we can look out beyond our Galaxy to the far reaches of the Universe, we need to watch out for celestial objects that are much closer to home!"
wrote the team on the
Dark Energy Detectives blog.
On December 27, 2014, while the Dark Energy Survey was scanning the southern sky, C2014 Q2 entered the camera's view. Each of the rectangular shapes above represents one of the 62 individual fields of the camera.