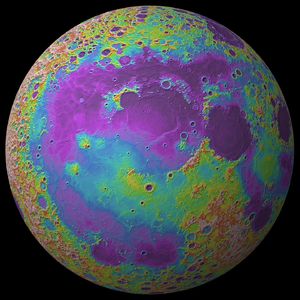 Even though its been more than four decades since humans first set foot on the moon, Earth's lone natural satellite still holds many mysteries.
"Virtually everyone who has ever lived has looked up at the moon; and many of us have wondered, 'How did those dark areas get there?'" says Maria Zuber, geophysics professor and vice president of research at the Massachusetts Institute of Technology in Cambridge.
Now, planetary geophysicists say they have finally unlocked the secrets of a mysterious dark patch known as the Oceanus Procellarum, or Ocean of Storms.
Scientists have previously speculated that the vast lunar depression may have been caused by an impact with an asteroid or comet. But now a new analysis of gravitational data gathered by NASA's GRAIL mission
suggests
that the ridges around the depression are more likely remnants of an "ancient magma plumbing system."
Planetary scientists have known for years that some of the dark splotches on the moon seen from Earth were likely carved by lava. That lava had to have come from the interior of the moon, but there was no explanation for how it found its way to the surface, until now. The answer, it seems, has to do with the moon's gravitational field.