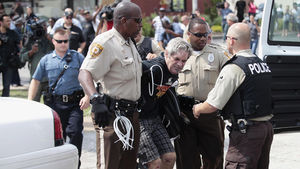 Police brutality may seem like a subject best handled by lawmakers and political advocates, but three teenagers from Georgia are hoping to shed light on the problem and promote good behavior with a new app they've developed.
Called "Five-O," the app has been designed specifically for mobile phones and encourages users to record and document every encounter they have with police officers. By doing so, users can submit ratings for local law enforcement, allowing people to see how each area's police departments stack up in terms of civil behavior.
Speaking with
Business Insider
, 16-year-old Ima Christian of Decatur, Georgia, said her siblings came up with the idea after regularly hearing reports of police abuse around the United States.
"
We've been hearing about the negative instances in the news, for instance most recently the Michael Brown case, and we always talk about these issues with our parents," she said.
"
They always try to reinforce that we should focus on solutions. It's important to talk about the issues, but they try to make us focus on finding solutions. That made us think why don't we create an app to help us solve this problem."