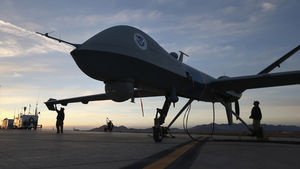 Anti-war groups will protest at the UK airbase from which the country has begun controlling its fleet of assassination drones in Afghanistan. Previously, the remote pilots were deployed only in the US.
Four anti-war groups - including CND, the Drone Campaign Network, Stop the War and War on Want - are staging a nonviolent protest on Saturday over drone use by the Waddington base in Lincolnshire.
The British Royal Air Force (RAF) has opened drone control stations at the base located south of Lincoln this week to work in tandem with those already in place at Creech Air Force Base in Nevada. In 2010, the Ministry of Defence decided it needs the capability to remotely operate its armed drones from its own soil following a strategic security review.