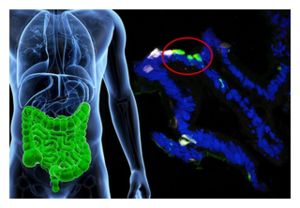 Type 1
diabetes
is caused by the body's immune system attacking its own natural insulin-producing cells to the point where the body cannot properly regulate blood sugar levels. Researchers have been pursuing therapies that could "re-train" the body's other cells to produce the proper amount of insulin necessary.
Now, researchers from Columbia University Medical Center have
announced
the ability to convert cells in the
human gastrointestinal tract
into insulin-producing cells by simply turning off a single gene, according to a new report in
Nature Communications
.
"People have been talking about turning one cell into another for a long time, but until now we hadn't gotten to the point of creating a fully functional insulin-producing cell by the manipulation of a single target," said study author
Dr. Domenico Accili
, a medical professor at Columbia University Medical Center (CUMC).
The study team said their finding opens the door to the possibility of treating or curing type 1 diabetes through the reprogramming of existing cells, rather than through transplants or stem cells. Although insulin-producing tissue can be produced in the lab from stem cells, these cells do not yet possess all the capabilities of natural pancreatic beta cells.
Some scientists have instead tried to change present cells in a patient into insulin-producers. Prior research by Columbia scientists transformed mouse intestinal cells into insulin-producing cells; the new study indicates that this method also works in human intestinal cells. The team was able to instruct human gut cells to create insulin in reaction to physiologic conditions by turning off the cells' FOXO1 gene.