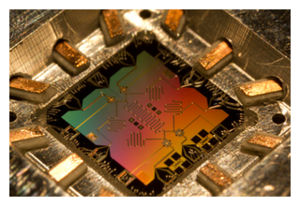 Quantum computers could crack codes and run more complex simulations than current machines, but actually building one is hard to do. The bits that store this complex data don't last long, because they are made of single atoms that get knocked around by stray electrons and photons in the environment.
Enter a team of physicists at Germany's Karlsruhe Institute of Technology. They found a way to get the bits to last long enough to do computations with, using the magnetic properties of a
rare earth element
called holmium and the symmetry of platinum. The experiment, detailed in tomorrow's (Nov. 14) issue of the journal
Nature
, is an important step in creating quantum computers and making quantum memory useful.
What makes
quantum computers
powerful is the nature of the bit. Ordinary computers have bits that are 1 or 0, stored in the current in a circuit or the alignment of magnetic fields on a disk. Due to the
weirdness of quantum physics
, quantum bits, called qubits, can be both 0 and 1 at the same time. That means a quantum computer can do certain kinds of calculations much, much faster.
One way for qubits to store information in the so-called spin magnetic moments of
atoms
. Elementary particles such as electrons can have spins that are either up or down. The total spins of the electrons - each has a spin of one-half - will induce the magnetic moment, which is a way of measuring how much torque a magnetic field might exert on a loop of wire. In atoms, the moment has a direction, just like the spins, and it is either up or down.