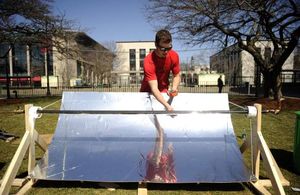 Five Northeastern University student-researchers have worked to address the worldwide water crisis, designing a solar-powered desalination system that produces potable ocean water.
They created the device for their senior capstone project, which was supervised by mechanical and industrial engineering professor Mohammad Taslim. Team members comprised Eric Anderson, Jon Moll, Dave Rapp, Murphy Rutledge, and Ryan Wasserman, all E'15.
In their project report, the students pointed to the urgent need to solve the global
water shortage
:
Some 750 million people lack access to clean water, according to water.org, and approximately 840,000 people die each year from a water related disease.
Indeed, the
water crisis
represents the
greatest risk facing the world today
.
"We wanted to work on this project precisely because of the world's water problem," said Wasserman, who recently graduated with his Bachelor of Science in Mechanical Engineering. "Developing nations like Haiti need a cost-effective method for obtaining usable water without power input."