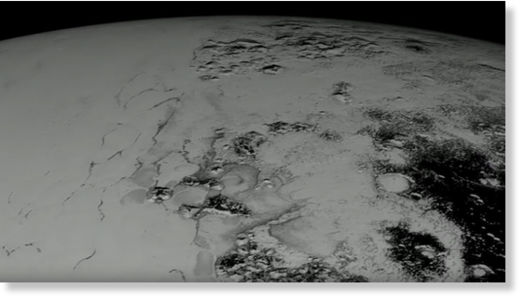 If a flying space safari over Pluto's ice-covered mountains sounds like a trip you'd like to embark on, you can now do so. New animation gives a bird's-eye view of the dwarf planet's stunning terrain, using images snapped by NASA's
New Horizons
spacecraft.
The animation was put together by Stuart Robbins, a research scientist at the Southwest Research Institute in Boulder, Colorado. The project was created using a mosaic of images snapped during the spacecraft's flyby of Pluto in July, which were beamed by New Horizons this month.
"Over the past two weeks,
New Horizons
has returned to Earth dozens of images at up to 400 meters per pixel (m/px) of the flyby hemisphere, and this has given scientists and the public an unprecedented view of this mysterious world,"Robbins said on NASA's
blog
.
The newest pictures, which reveal new details about Pluto's atmosphere, weather patterns, and streams of frozen nitrogen, have been
referred
to as a "scientific bonanza" by NASA.