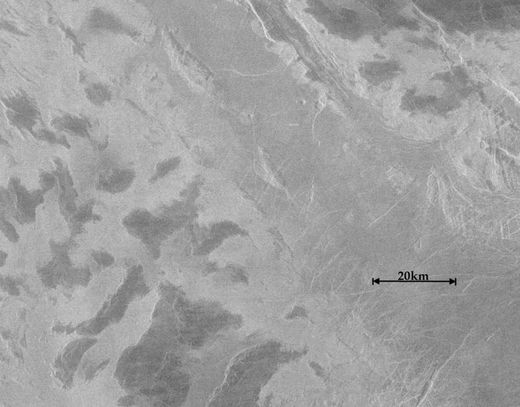 Venus is hiding something beneath its brilliant shroud of clouds: a first order mystery about the planet that researchers may be a little closer to solving because of a new re-analysis of twenty-year-old spacecraft data.
Venus's surface can't be seen from orbit in visible light because of the planet's hot, dense, cloudy atmosphere. Instead, radar has been used by spacecraft to penetrate the clouds and map out the surface - both by reflecting radar off the surface to measure elevation and by looking at the radio emissions of the hot surface. The last spacecraft to map Venus in this way was
Magellan
, two decades ago. One of the Venusian surprises discovered at that time is that radio waves are reflected differently at different elevations on Venus. Also observed were a handful of radio dark spots at the highest elevations. Both enigmas have defied explanation.
"There is general brightening upward trend in the highlands and then dark spots at the highest locations," explained Elise Harrington, an Earth sciences undergraduate at Simon Fraser University, in British Columbia, who revisited the Venus data during her internship at the Lunar and Planetary Institute, under the direction of Allan Treiman. Brightening, in this case, means the radio waves reflect well. Dark means the radio waves are not reflected. In other words, the higher you go on Venus, the more radio reflective the ground gets until it abruptly goes radio black.