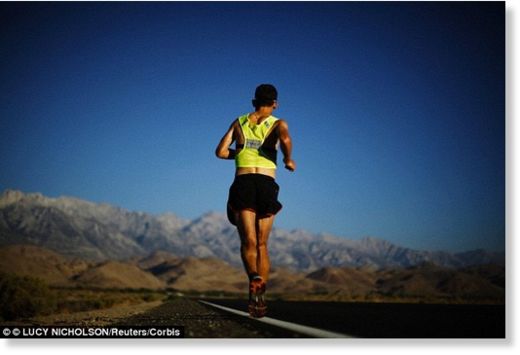 Too much exercise can trigger blood poisoning, scientists have warned.
Taking part in extreme endurance events causes intestinal bacteria to leak into the bloodstream, leading to serious infection, a new study revealed.
Researchers said their findings came after analysing people who participated in fitness events, including ultra-marathons, and multi-stage marathons which span consecutive days.
Dr Ricardo Costa, of the University of Monash, said:
'Blood samples taken before and after the events, compared with a control group, proved that exercise over a prolonged period of time causes the gut wall to change.

'This allows the naturally present bacteria, known as endotoxins, in the gut to leak into the bloodstream.'
This then triggers an inflammatory response throughout the body from it's immune cells, similar to a serious infection, he added.
As part of the study, Dr Costa and his team examined people taking part in a 24-hour ultra-marathon and multi-stage ultra-marathons.