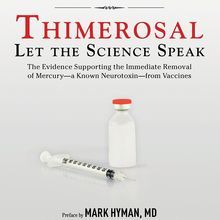 The common canard that U.S. autism rates rose after drug makers removed most thimerosal from pediatric vaccines is wrong.
I am pro vaccine. I had all of my six children vaccinated. I believe that vaccines save millions of lives. So let me explain why I oppose the current wave of state legislation to remove parents' right to choose whether to give their children particular vaccines.
Vaccines are big business. Pharma is a trillion dollar industry
(1)
with vaccines accounting for $25 billion in annual sales.
(2)
CDC's decision to add a vaccine to the schedule can guarantee its manufacturer millions of customers and billions in revenue
(3)
with minimal advertising or marketing costs and complete immunity from lawsuits.
High stakes and the seamless marriage between Big Pharma and government agencies have spawned an opaque and crooked regulatory system
. Merck, one of America's leading vaccine outfits, is currently under criminal investigation for fraudulently deceiving FDA regulators about the effectiveness of its MMR vaccine. Two whistleblowers say Merck ginned up sham studies to maintain Merck's MMR monopoly.
(4)