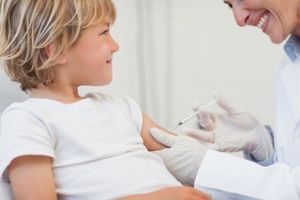 Vaccine are proven safe, right? You may be surprised to find how non-evidence based this belief really is....
A few days ago,
The Washington Post
published an
op-ed piece
by a medical ethicist who thinks that all doctors who have concerns about vaccines should lose their licenses. Last week, it was parents who don't vaccinate their children should be jailed or sued. There are case reports where not vaccinating has been used as proof of neglect for CPS to remove children and terminate parental rights. Whatever you think about vaccination, think hard before you endorse the idea that the government should be able to mandate a profitable but invasive medical procedure without informed consent. This is a very dangerous precedent to set and one you may not be happy about when vaccines are mandated for adults to
protect our "herd immunity"
. It is not about the measles. It is about your freedom to choose what goes into your body and your child's body.
Although we keep hearing from the media and the medical establishment that vaccines are unquestionably safe, the supreme court has deemed them "unavoidably unsafe" as recently as 2011. Pharmaceutical companies are indemnified by the government against liability and pediatricians also cannot be sued for vaccine injury. Rather, there is a
special vaccine court
that compensates the very few patients who can prove their injury beyond a shadow of a doubt. The National Vaccine Injury Compensation Program has paid out over 3 billion dollars to date.
We keep hearing about the overwhelming proof that vaccines and the MMR in particular is safe. Anyone who questions this is being ridiculed. Concerned parents are stupid and concerned doctors don't understand the science. Well, here is the science, from the most recent Cochrane Review of the entire literature on the subject. Cochrane Reviews are systematic reviews and meta-analyses which interpret the research and are generally recognised as the highest standard in evidence-based health care.